My sweet boyfriend Greg (if you are 54 years old do you still get to use the word "boyfriend"?) spent many hours recently, building me a piece of furniture that I had been hoping to find at auction for a long time, but just could never get my hands on. It is a primitive-style farmhouse step-back cabinet: two-door enclosed base, with a three-shelf open hutch on top.
Greg hasn't really built any furniture before, but because we had started to do some small refinishing projects for our booth pieces, we had acquired a radial arm saw and then a table saw. So one day he went to the garage and started building a couple of miniature "barn gates" made of cedar. When he first showed them to me, we talked about aging them and styling as decorative wall pieces to be sold in our antique booth. Then he started talking about maybe building a cabinet around them, and at that point I showed him the inspiration photo below for what I thought it could become.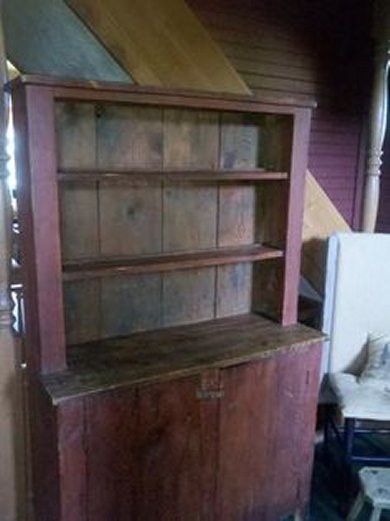 And so, without any plans and just working out of his head with his background in large-scale construction (and NOT – as he likes to claim – in finely detailed finishing work)… he built this: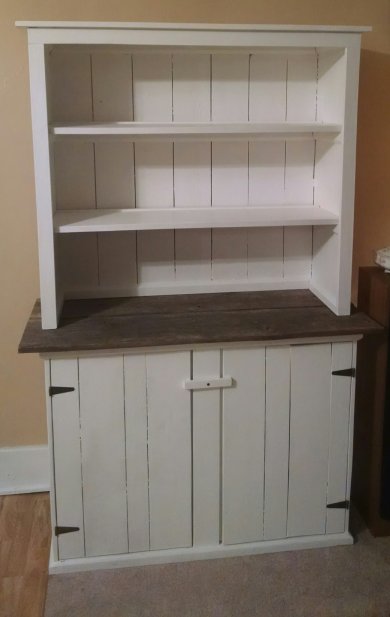 I mean, it's perfect. So perfect I want to cry. It's exactly what I was looking for, only better because it's handmade. The cabinet stands about six feet tall and four feet wide. It's made primarily out of rough-cut cedar fence pickets and pine two-by's. The beautiful, naturally aged top on the base is reclaimed barn board.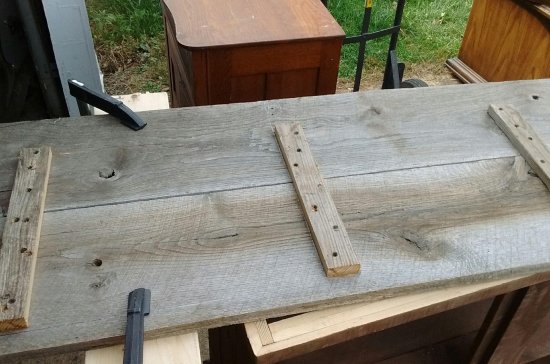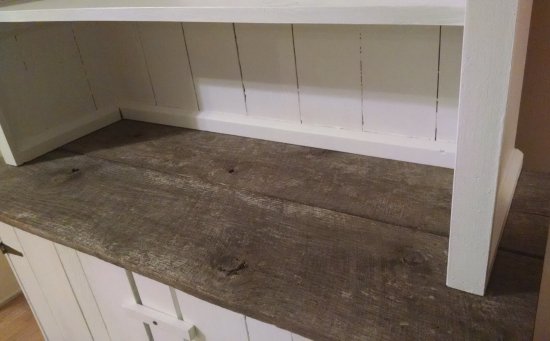 The hutch is made of more cedar pickets, pine one- and two-by's, and pine shelving.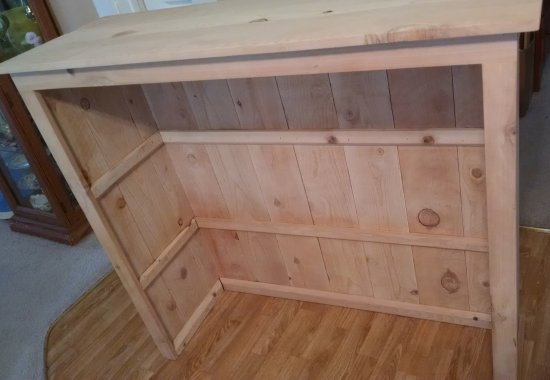 In finishing, we experimented with a wood-staining technique where you first paint the wood with black tea, and then vinegar steeped with steel wool to draw out an aged, silvery color. However, for reasons unknown, on this project the aged color was decidedly reddish/brownish/rustish. Here it is part-way through the staining process.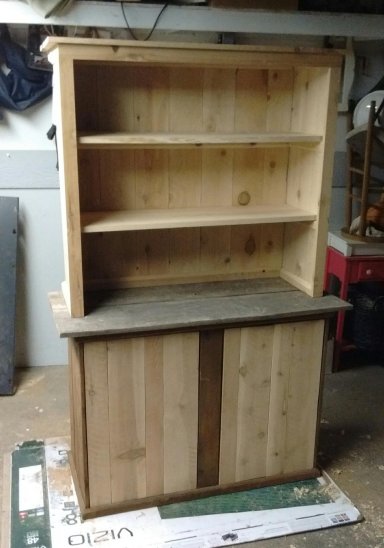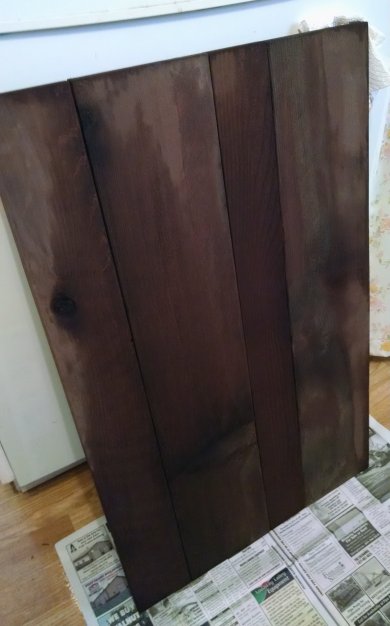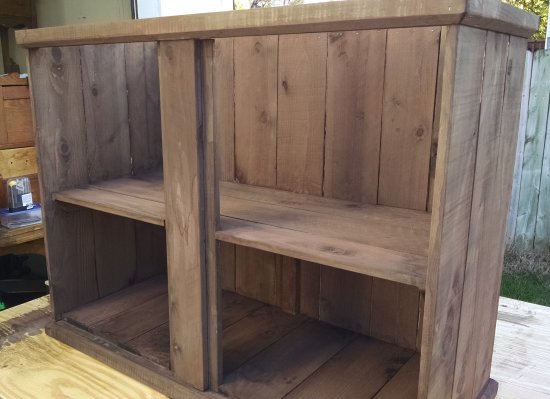 Although it didn't turn to the silvery color I was anticipating, it allowed me to paint the entire piece white with a dark, aged appearance underneath so that if I chose to manually distress it, the "aged" wood would show through.
Once the aging step was completed, I painted the entire thing in Glidden Premium interior paint in Nano White. It took an entire gallon, two coats overall and in some places, three. I left the barnwood unpainted. Greg then attached the top to the base and we moved the whole thing into place.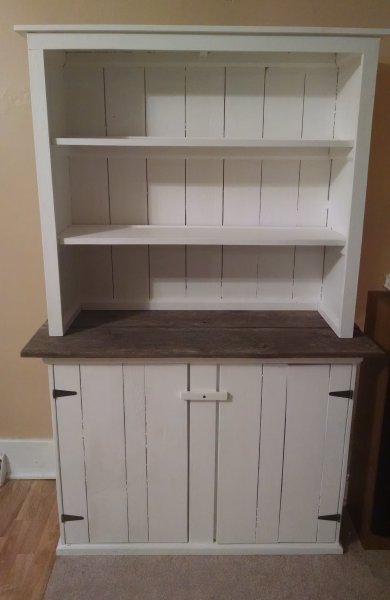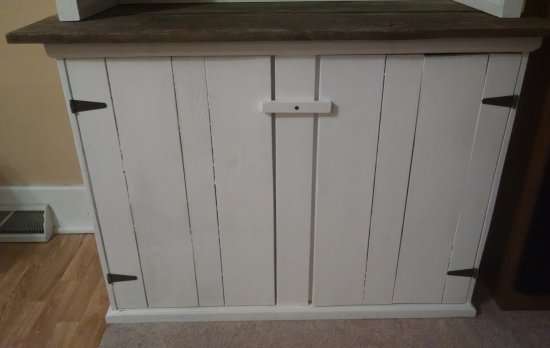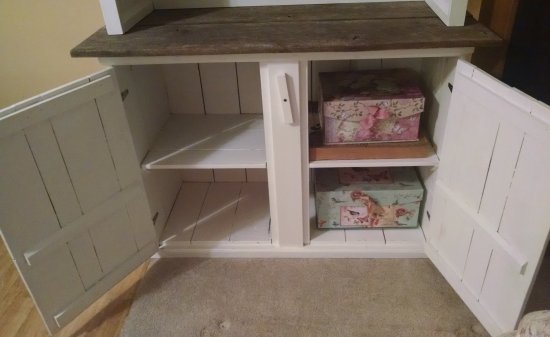 I admit, I stayed up until about 3 a.m. fussing and styling with some of my favorite cottage pieces, many of which have been in hiding just waiting for this very piece of furniture.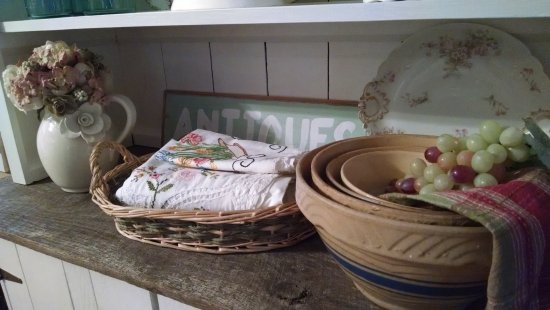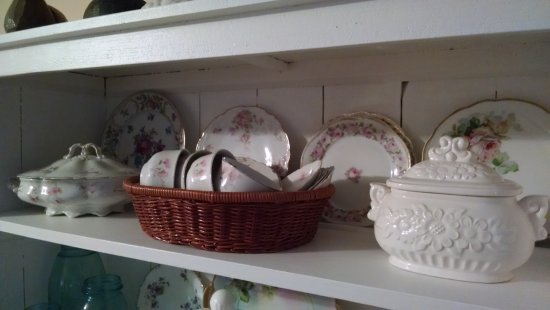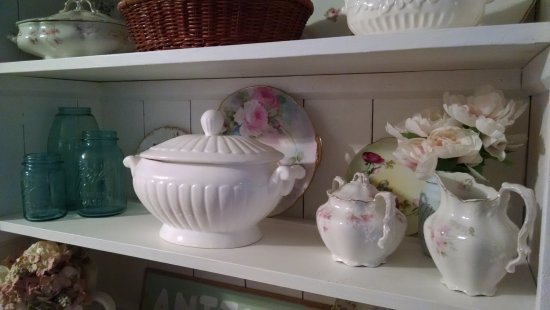 I can't even begin to express how impressed and touched I am that this is what he chose to build, and that he seems to love it as much as I do. I'm pretty impressed with him, and I hope he is too!