Sometimes I feel like a squirrel in traffic, you know? Too many things to look at, listen to, pay attention to. It's in those moments when I try to make a conscious effort to slow my mind, find something beautiful to observe or appreciate, and just become purposely mindful of the details. Right now I'm happy to say I'm fully immersed in enjoying Autumn – in particular, I'm loving fall colors, velvet pumpkins, and my classic handed down Currier & Ives dinnerware by Royal China!
Fall Colors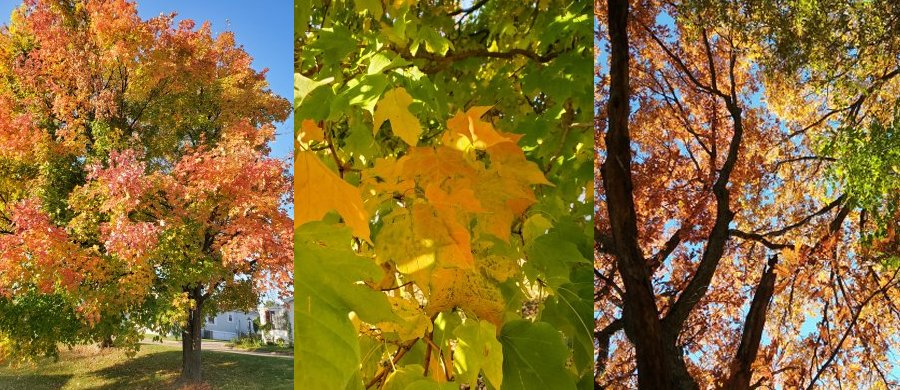 We had some very cool, rainy weather in early October so our Fall colors are gorgeous right now! I don't even have to go far to see beautiful trees against bright blue sky – there are many of them right outside my front door here in the little mobile home park.
Velvet Pumpkins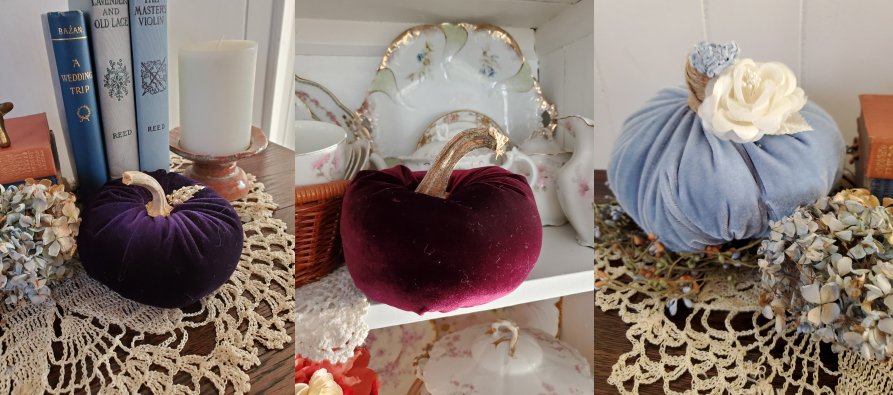 I've been sewing up some additional velvet pumpkins to add to my collection this past week. In the last few years I've saved the stems off any small gourds I've used in Fall decor, and once dry I use them to give a bit of natural texture to my little creations. My all-time favorite, though, is that light blue one with the wrapped jute stem. I just love the dimension created by the folds in that one!
Classic Currier & Ives Dinnerware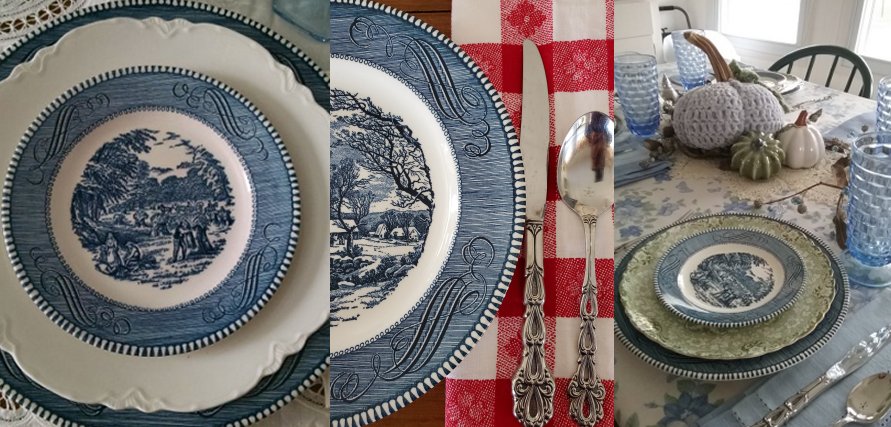 Over in the Thrifty Tablescapers group on Facebook, we were recently reminiscing about what dinnerware patterns we recalled from our younger years. Answers ranged from paper plates to Limoges! Royal China Currier & Ives is definitely the one I remember most fondly, and it got mentioned by a few other ladies as well. For me, Fall leads to Thanksgiving and Thanksgiving leads to Grandma's house. And Grandma's house means this lovely blue and white ironstone!
The set we used for holidays throughout my childhood was gifted to me by Grandma Verdie when I was 30, and I still enjoy it today. The pattern was actually a grocery store premium beginning around 1954, and by the time I was old enough to remember it in the early 70's, Grandma had service for 12! It has gone through two whole-house floods in its time with me, and I downsized quite a bit after the second flood in 2008. There are many other patterns that I thoroughly enjoy using, but this one is my sentimental favorite.
What's on your radar right now? What are you loving about Fall? Do you remember any particular dinnerware from your younger years?