While much of blogland seems to have been waiting for September 1 to proclaim "Welcome Fall" – and while, make no mistake, I love Fall! – I am not quite ready to let go just yet.  Instead I consider us to be in the throes of the "Fifth Season" I officially proclaimed recently, which is Faded Summer.
And Faded Summer calls for its own tablescape… or two, or maybe three. And while Faded Summer itself flies in the face of the traditional four-season model we have all been taught, I think it's fair to say that it is also a time to defy some of the traditional conventions of table-setting. So for our first Faded Summer table, I've decided we are using serving platters for our plates.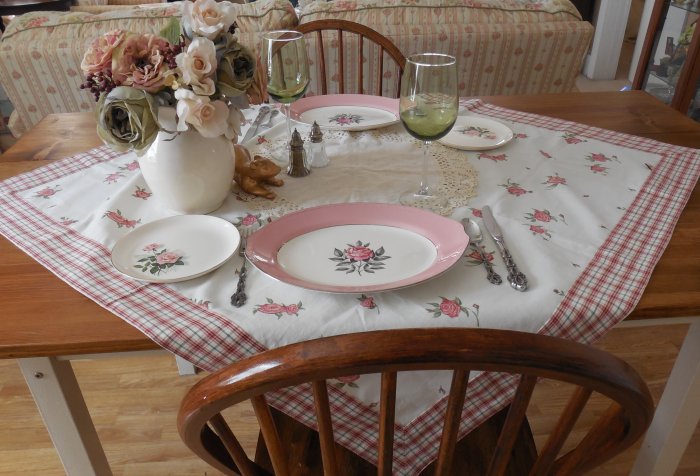 I mean, why not? There is nothing that says a dinner plate must be round… or even square, as some are these days. There is something different and lovely about the hard-working oval platter, and it deserves to take on the feature role in this most unconventional season.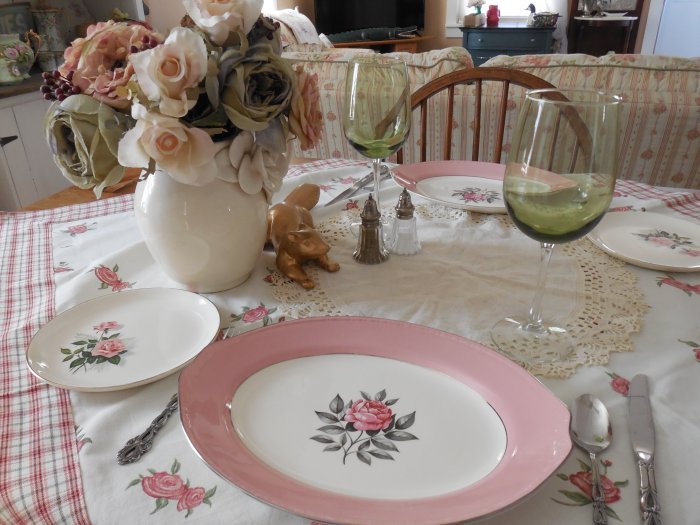 Our Faded Summer table actually begins one level down, however, with a pretty rose-and-plaid square Van Cleef tablecloth: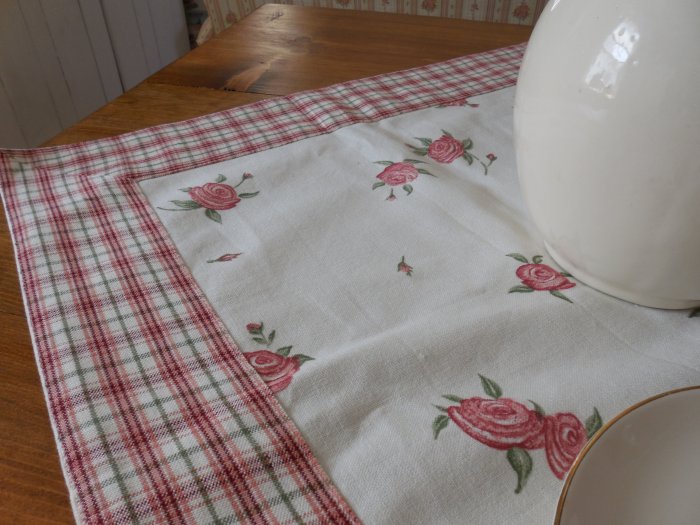 What I love about this piece for this time of year is the texture, particularly of the plaid border. Faded Summer is the perfect time to start bringing in some of the heavier textures that seem to come with Autumn, but the motif and colors here still say Summer. It's therefore the perfect transitional piece.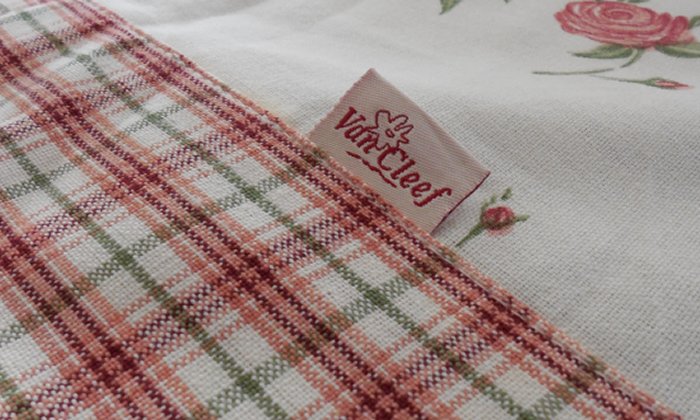 Speaking of texture, there's also plenty of it near the center of the table with our hand-crocheted doily, sculpted pitcher, faded silk florals, and ribbed salt and pepper shakers.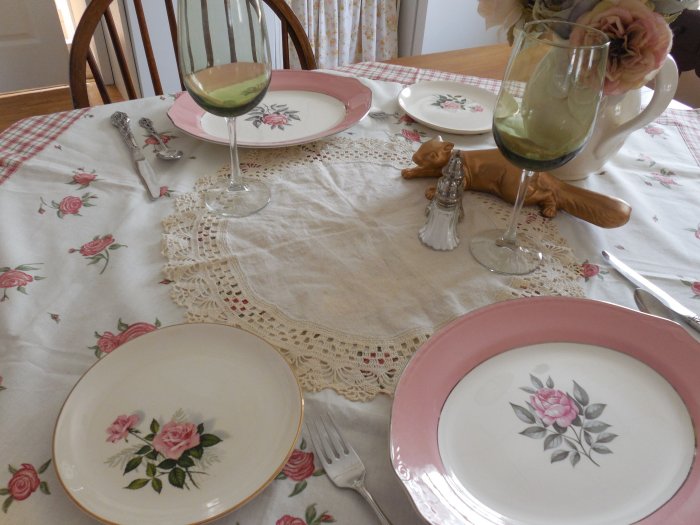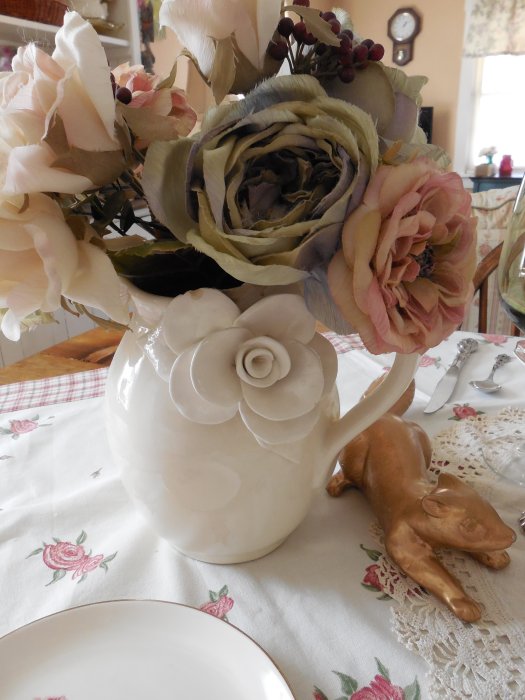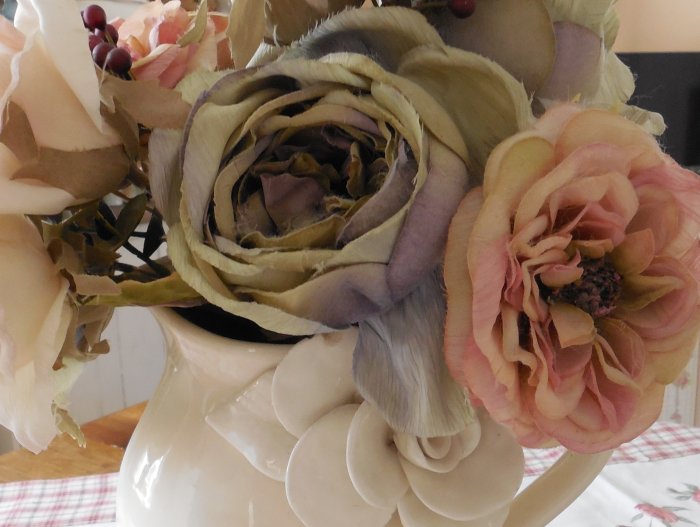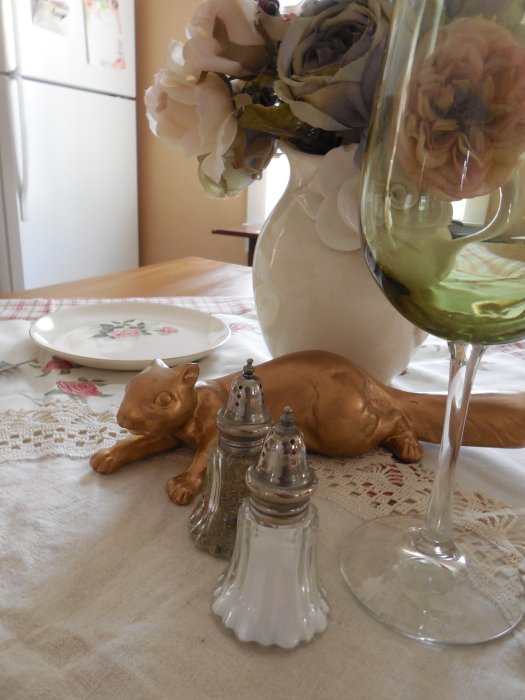 The ceramic squirrel – a unique find in one of my favorite antique/vintage stores – lends a touch of gold elegance, and he's also included here in tribute to the little jet-black squirrels that I used to see in our nearby neighborhood park. Alas, I haven't seen them since late May of this year so I suspect they may be gone.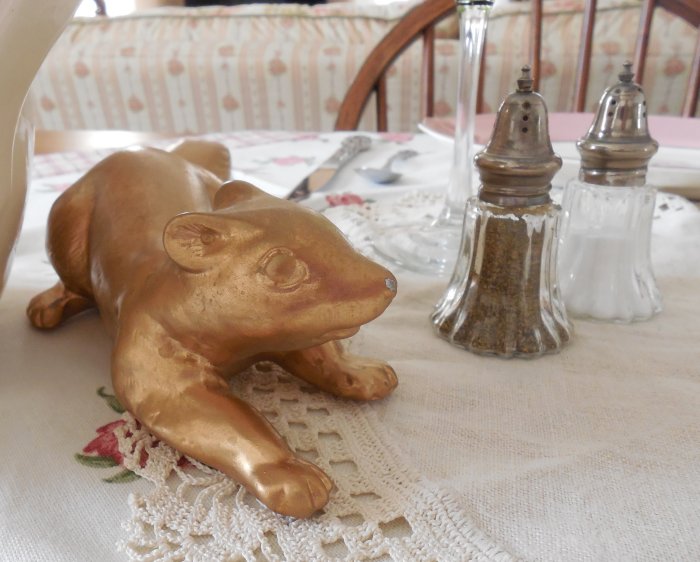 Our place setting, as noted, starts with these beautiful platters, a dusty pink shoulder with faded rose in the center, and foliage in gray to echo the notion of a fading season. This pattern is "Norway Rose" by Cunningham & Pickett.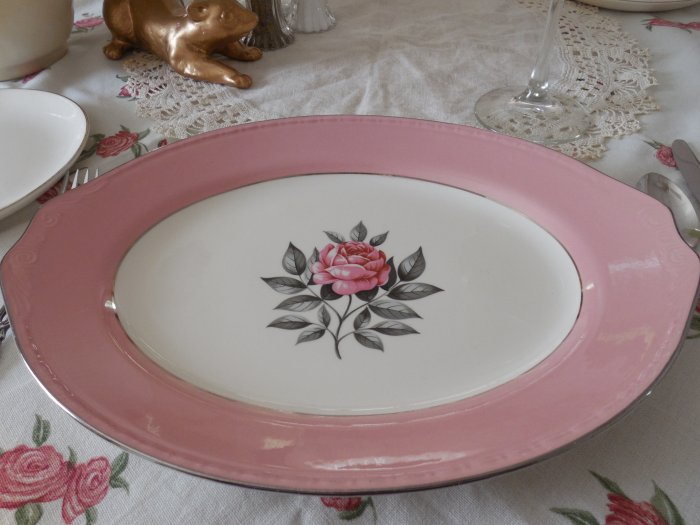 To the left we have "Summer Rose" dessert plates by Taylor-Smith-Taylor.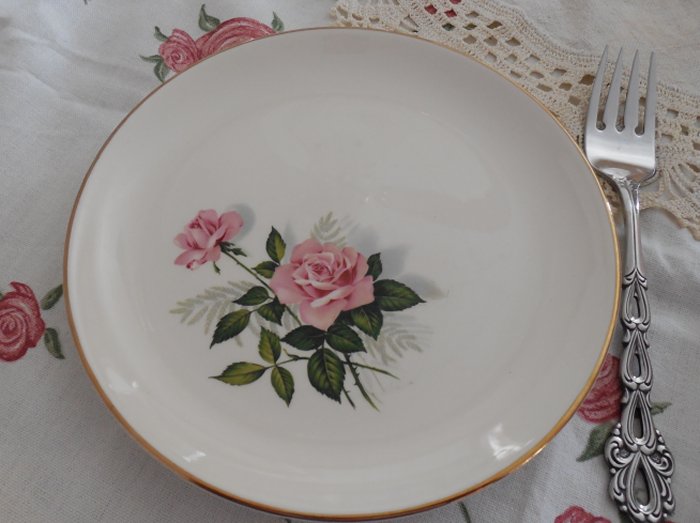 Our flatware is "Chandelier" by Oneida.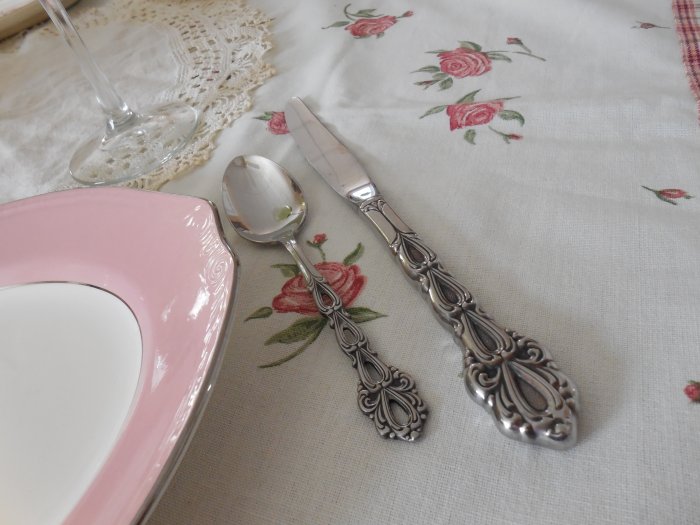 And for our beverage we are using generously-sized stemware from Dollar Tree.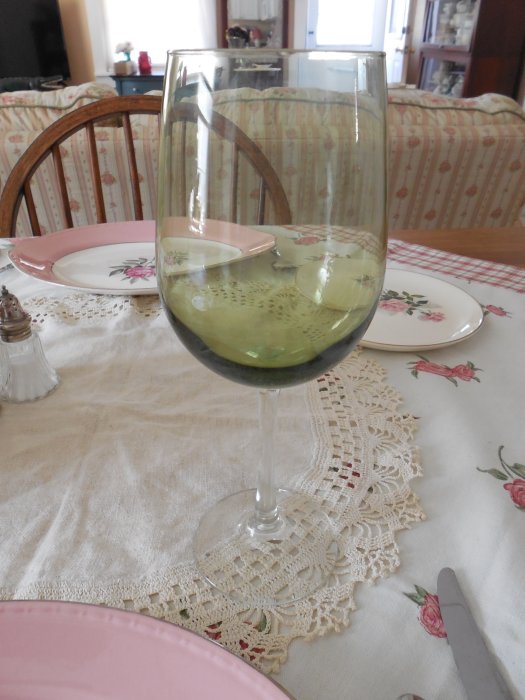 I will get around to pumpkins and acorns soon enough, but early September is not that time. I'll be enjoying Faded Summer for a few more weeks!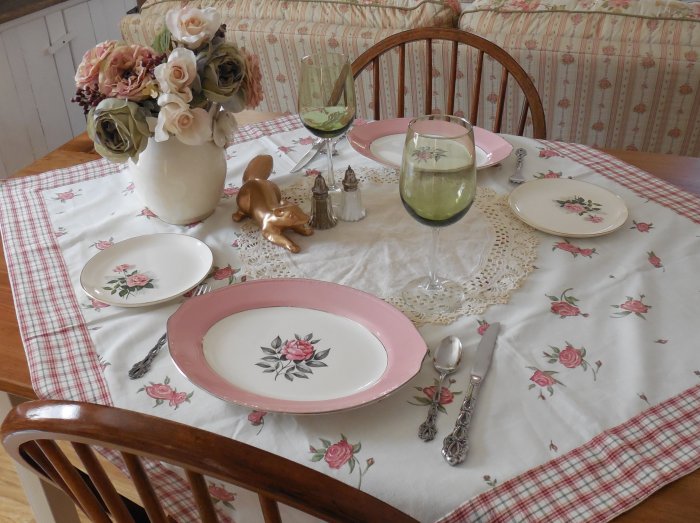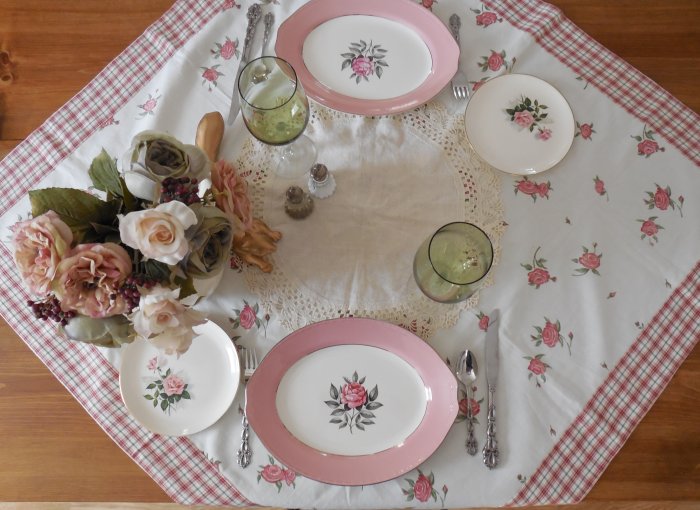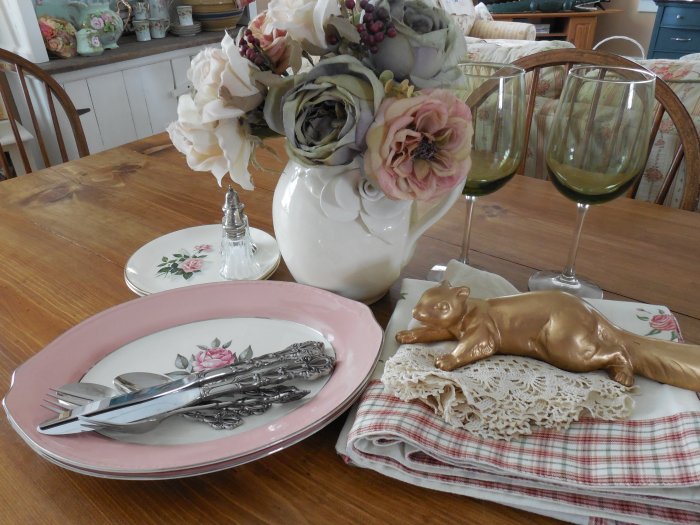 I'll be sharing my Faded Summer table at Tablescape Thursday at Between Naps on the Porch | Dishing It and Digging It at Rustic-Refined.com | and Inspire me Tuesday at A Stroll Thru Life.
Here's a Pin-able image for this post!