I wanted to share an easy photo holder project that I finished up recently. The first picture shows the timing belt gear which fell out of my car on the day that it finally konked out on me about a month ago, marking the end of its reign as "my car."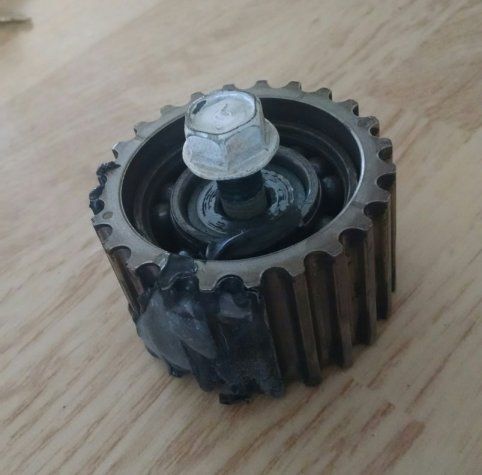 The car – a 2002 Subaru Outback Legacy – was, in fact, a gift from my Dad back in 2007. I had begun taking pretty regular care of him as his liver disease had more and more effect on him, and every time I took him to the doctor or any other errand, we'd drive his car. Eventually he simply gave the car to me, partly as thanks and partly because that's what he had done with most of his previous cars: given them to me when he was done with them.
So anyway when the car finally gave up, I kept this piece that fell off, and turned it into a keepsake that holds a couple pictures of Dad, including one of him with my daughter when she was about seven years old. It was easy enough to make – I literally just wiped off some of the grease, filled the hole in the middle with hot glue, and poked a photo wire down into the center of it as the glue was setting up. The stuff lodged in between the teeth of the gear is melted timing belt.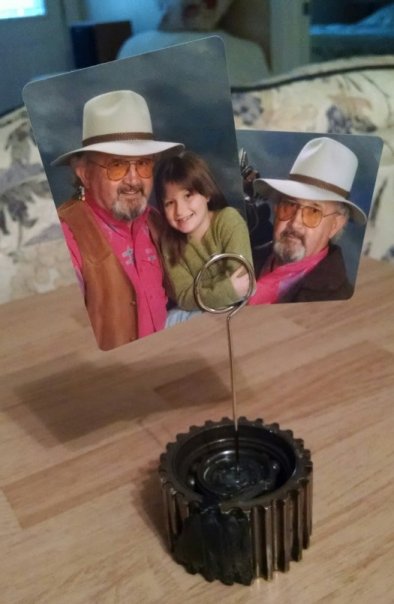 A very simple DIY and a perfect memento! I'm sharing this project over at the Upcycled Link Party at Funky Junk Interiors, as well as at Marty's Inspire Me Tuesday party at her sweet blog, A Stroll Thru Life.