Do you see what these are? These are beautiful hand-painted decorative cabinet plates which I swore I would never collect.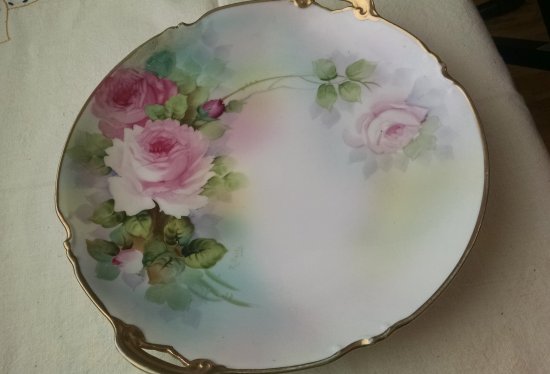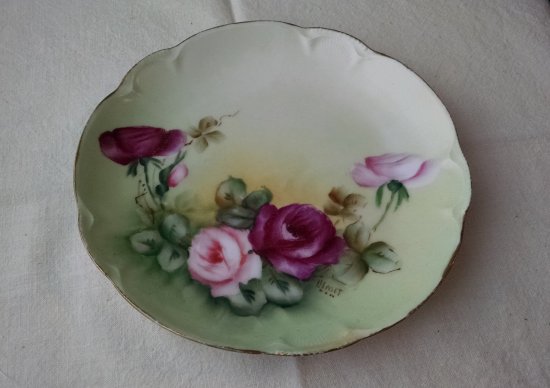 Or at least, I swore for a long time that I was too young for them, because, you see, the only people I know who collected cabinet plates were "old ladies": my grandmothers, my great-aunt, and other elderly female relatives and neighbors all had them.
And I, although I loved both dishes and roses, I knew I was too young… too hip… and too cheap… to spend my money on things that were purely decorative such as cabinet plates. So for about 25 years I called them "old lady plates" and I ignored them as I scoured the antique malls hunting for other more worthy treasures.
Until this one.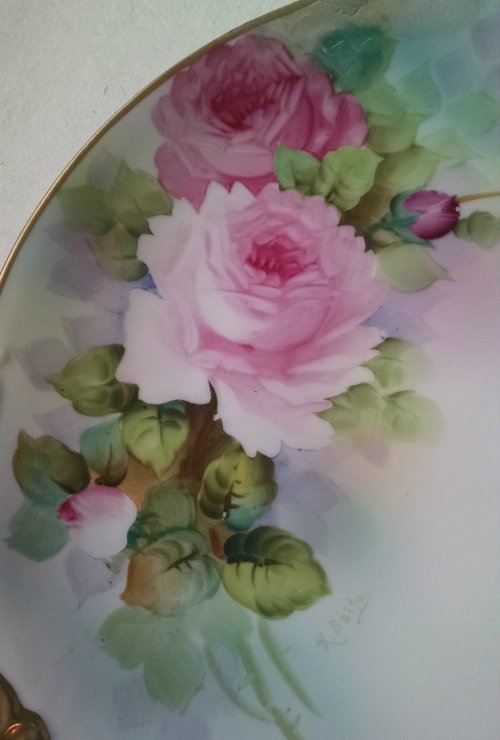 This one was on an auction table about a year ago, nestled in among many other household items. I had a hunch it was not going to bring any money. My reasoning was that this was an "old lady plate," and old ladies get to a point where they stop collecting and begin to downsize. So the women at this auction, by and large old ladies, were probably not in the market for cabinet plates. As for any dealers who might be there to purchase inventory for their shops, my hunch was that this was simply not the type of thing that was selling these days.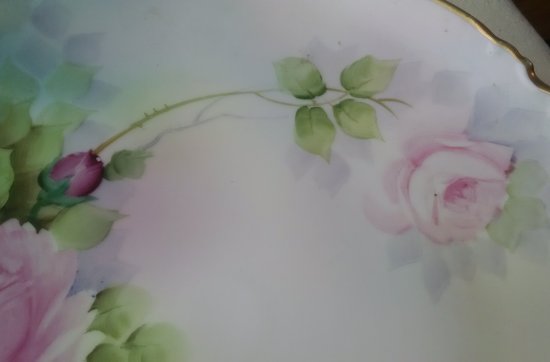 As the auction got underway, the image – those gorgeous roses – meanwhile began to work its magic on me. So much so that by the time the auctioneer got around to that table and this piece, I knew I had to have it. He started the bidding too high for me, as happens often, but my hunch proved correct: no one was bidding. So he battled his way down trying to get a starting bid, until he got to a point where I believed he was going to say "pass it," due to lack of interest. At that moment I called out my ridiculously low bid, just as I had heard others do on other slow-moving items.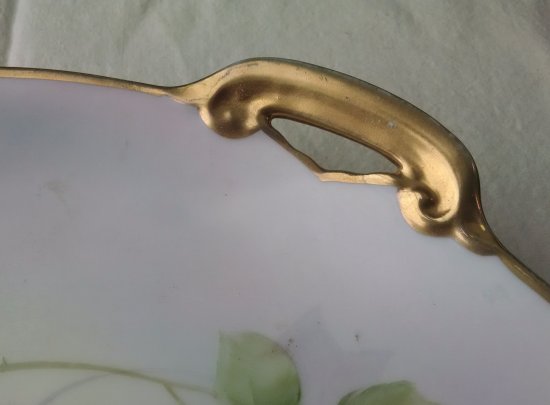 "Dollar bill!"
Was that really me, yelling out above the din of all these farmers and their side conversations? Why yes, yes it was.
Finally, with a starting bid to work from, the auctioneer took off in search of a counter-bid. But I was alone in my interest in this sweet plate, and he didn't spend too much time trying to get someone to bid against me. The hammer fell and it was mine, and I couldn't help but grin as the ringman handed me my prize.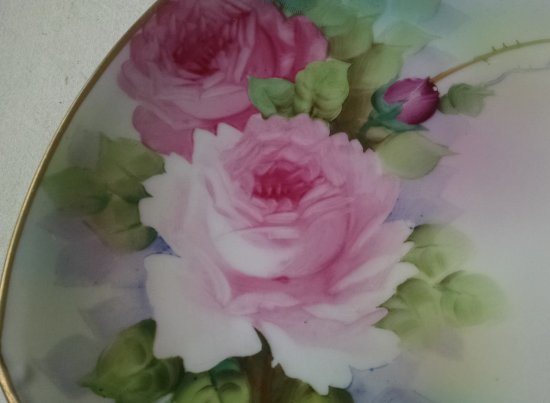 It was not lost on me that I had joined the ranks of the old ladies, at the price of a dollar. The moment was a bit magic, and festooned with beautiful roses.