One of the biggest challenges in creating your cottage style (or any style!) with thrift store finds is achieving a cohesive result in your actual decorating. Acquiring items over time and from different sources probably means that nothing matches – and it seems that we are often led to believe that matching = successful decorating!
But quite honestly, "not matching" is a cornerstone of cottage style! When we look at our attempt to create a cottage-style room and we feel like it misses the mark, chances are what we're really missing is cohesion – a sense that  everything belongs together despite being mis-matched.
I recently moved the furniture around in my tiny bedroom based on an inspiration picture I found online. I lost a couple inches of nightstand space on either side, but as a trade-off it created more space between the foot of the bed and the wall. I found I could pull my small bookcase out of its awkward corner and place it along the wall between my bedroom door and closet.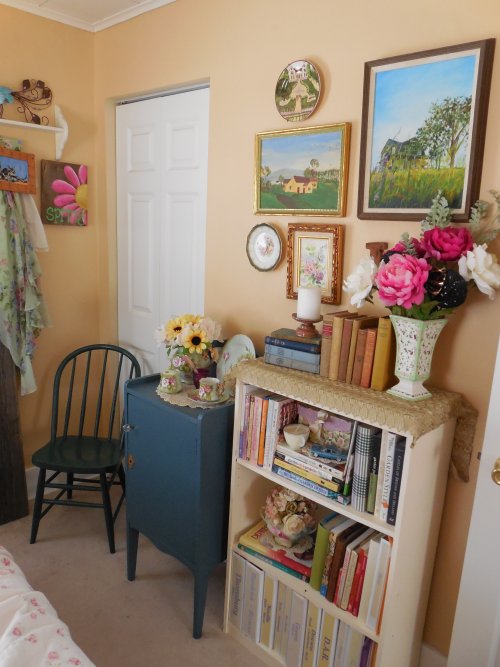 With the furniture switched around, I set about designing a wall grouping using some of my favorite thrift store finds: "Sunday paintings," which is the old-fashioned name for pictures created by people who took up painting as a hobby or weekend pursuit. In acquiring Sunday paintings, I gravitate toward floral arrangements and landscapes featuring old barns, houses, and other structures. I've been collecting them for a long time, so I had plenty of choices on-hand.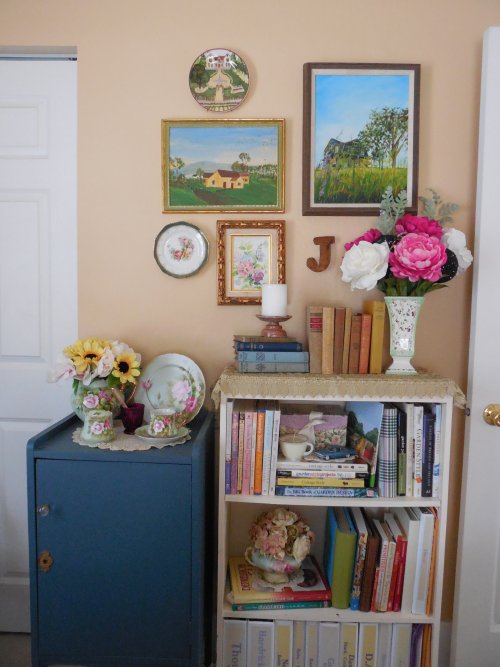 This whole wall between my bedroom door and the bi-fold closet door was pulled together just by shopping my house – one of the five best ways to decorate on a budget! I'm loving how cohesive it looks, even though all the items are thrift store finds, purchased over time and from lots of different secondhand sources.
Let's take a closer look. This is the first Sunday painting I ever picked up – I found it at an antique mall about 25 years ago for around $5.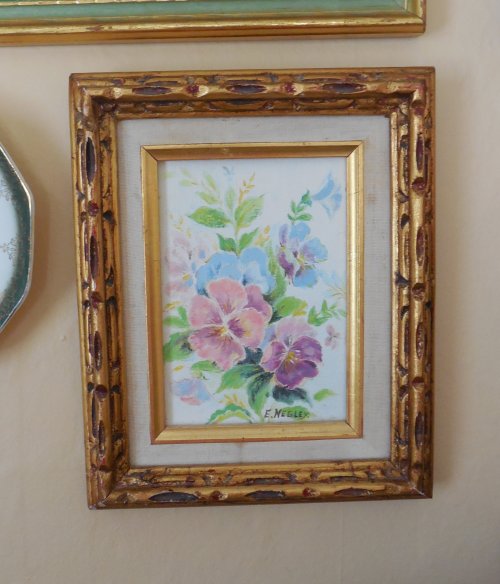 This is the first Sunday painting I bought that was not a floral arrangement; it was $2.99 at the Goodwill. It has different subject matter, but the gold in the frame ties it to the other painting.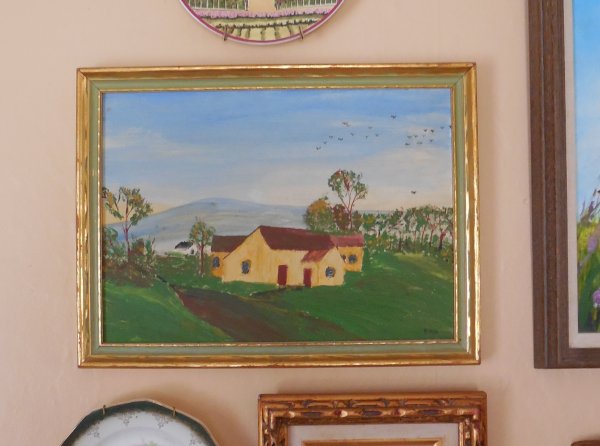 And this one is also a favorite – I love the house itself, as well as the unusual angle. This was also a Goodwill find at $5.99. This one has the same subject matter as the previous picture, but no gold in the frame. It does have some purple flowers, which also appear in the first picture.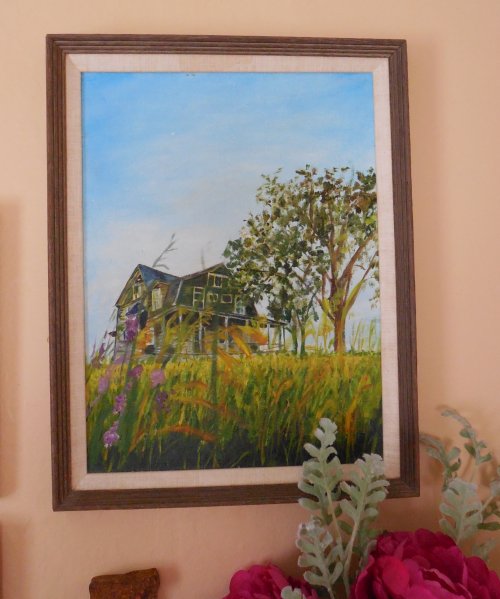 In general, I love combining floral and rustic elements – that combination is kind of a given here in my "vintage floral cottage." I think these all work together well because they each use some of the same elements:
Picture #1: Gold frame, purple flowers, blue flowers
Picture #2: Gold-edged frame, blue sky, green grass, and a building
Picture #3: Blue sky, green grass, purple flowers, and a building.
I wanted a couple other elements in my grouping for texture and lovely visuals: plates and silk flowers. The two plates each reflect one of the two motifs: house and flowers.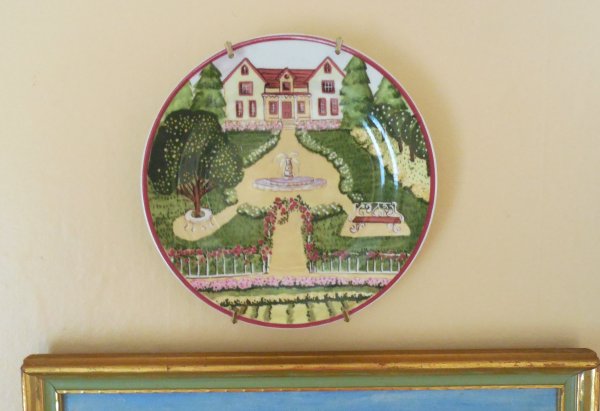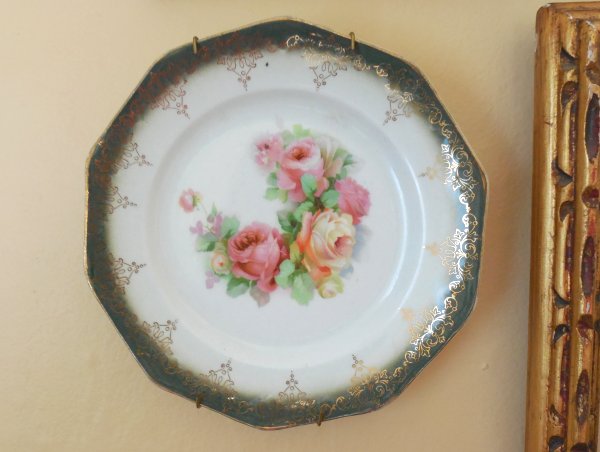 Next I needed to tie the top shelf of the bookcase into the grouping. The flowers in the vase are tall to bridge the height gap from the top of the bookshelf to the bottom of the painting, and also to carry through the use of flowers as an accent motif. But this left a small open space that seemed "off" somehow. So I hung my rusty letter "J" to fill the space while carrying through the rustic element of the picture frame.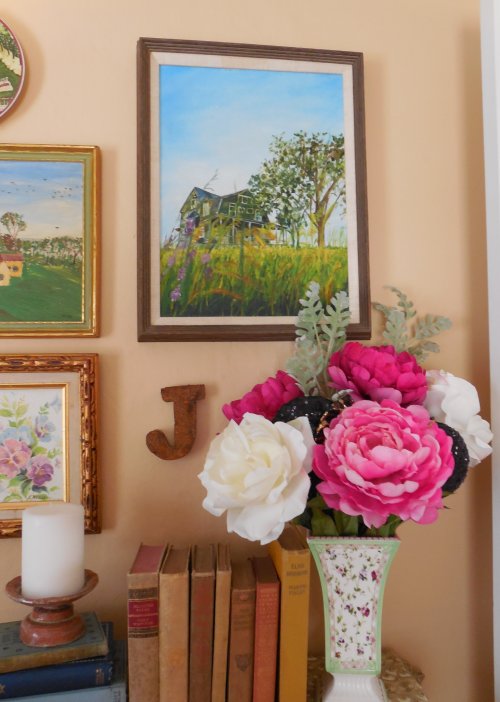 The other element I've used here is books. I've spent the past year being very particular about collecting some old books. I look for gold lettering, and/or titles that are befitting of my vintage floral cottage. Until my bedroom re-do, my little collection was tossed haphazardly on the bookcase. But now that the shelving unit is more visible, I decided to create a little display of them along the top of it. The gold lettering on some of the books helps to carry the gold accent color through the entire vignette.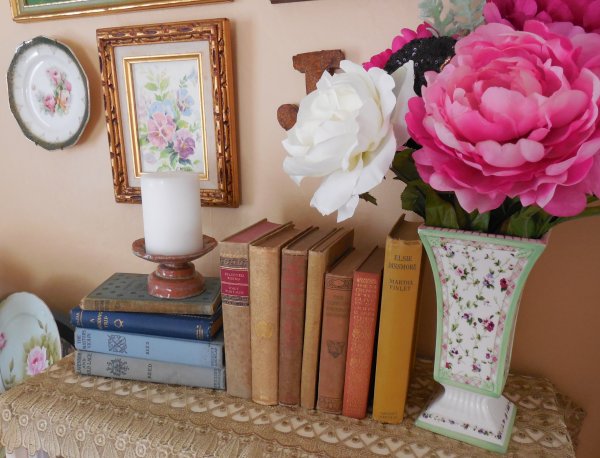 I anchored the display on top of the bookshelf with a curtain panel that matches the valance on one of the windows. (Shhh… don't tell anyone, but my two bedroom windows have mis-matched valances… and I love it that way!)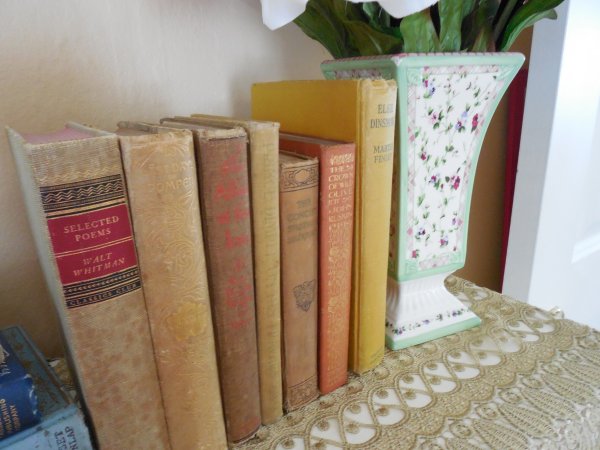 And speaking of rustic elements, the candle base is someone's discarded pottery project – I have a collection of those too!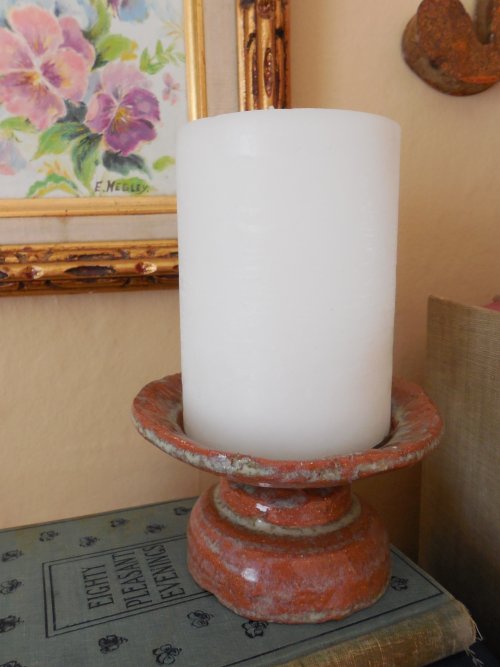 The rest of my bookcase is still a work in progress, design-wise. It contains a selection of design, garden, reference, and homemaking books as well as all my genealogy notebooks. (Fun side note: the little painting tucked in here is one that I personally did – on a Sunday – about 10 years ago.)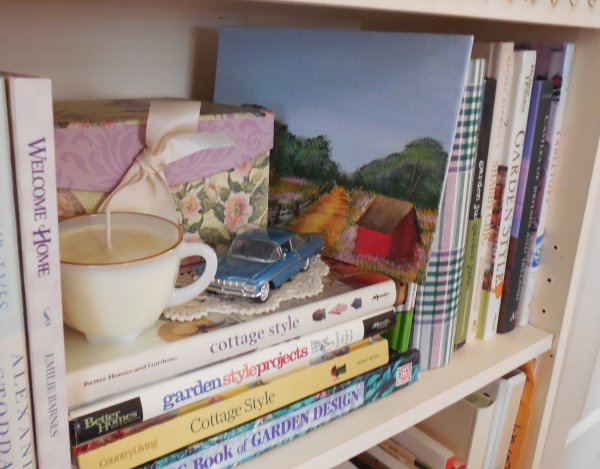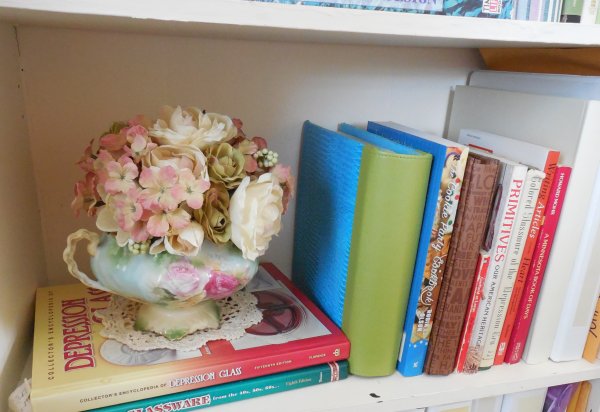 I like this arrangement because it brings together a whole bunch of disparate thrift store finds – books, paintings, plates, and flowers – that I've collected over time but that work together because of their colors, motifs, and details.
I think the secret to achieving a cohesive look with thrift store finds is to establish a few elements that will tie all the pieces in a grouping together. In this case, the pictures and their frames related to each other in a couple of ways and the gold edging or detailing in several of the elements was a key accent.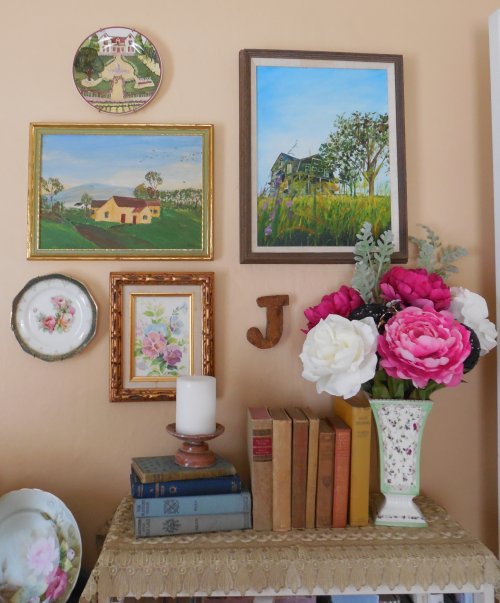 Another tip is to keep your overall look in mind whenever – and wherever – you are shopping. This might be the look you've already established, or a look that's still in progress. And ask yourself the tough question when you see something you want to purchase:  will this contribute to the look I'm going for? If it does, easy decision! If it doesn't, you might consider whether altering it in some way might improve its odds… or whether it might still look great as "odd man out" in the design of a room or vignette.
But now, do you want to know a secret? In preparing this blog post I thought maybe the rusty J looked a little lost in its space. So I swapped its position with the floral plate and added one more element. Now there are three paintings and three plates, plus the J for an odd number of elements.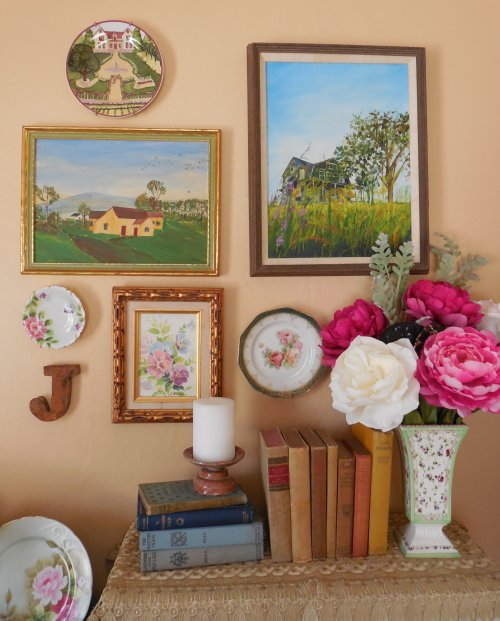 Here's a pinnable image for this post!