In 2021, at about this time of year, my sweetie and I got to take a really unique vacation – we drove from Iowa down to the Gulf area of the US, and thanks to a friend who owns a business is Gautier, Mississippi we took a tour of the Pascagoula River and connected swamp channels. One of our little "side-jaunts" on that trip was a morning drive over to Pensacola, Florida, where we spent a few hours on the beach. I hadn't been to the ocean for several years, and it always makes me cry when I go, and so our stops at Gulfport, Biloxi, and Pensacola – though brief – were (and are) very special to me!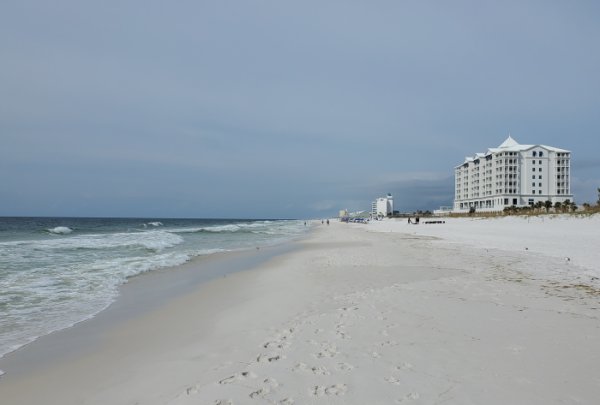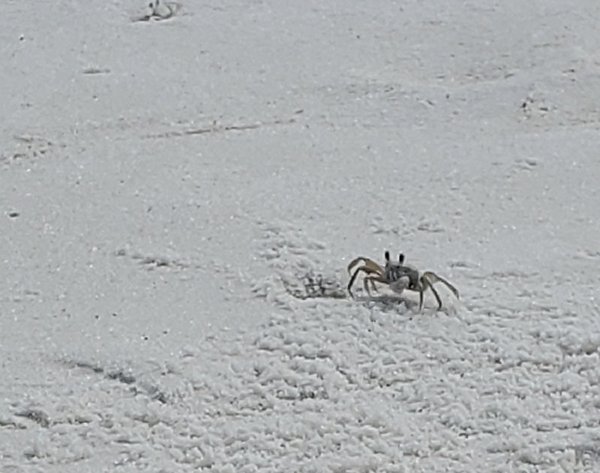 This year my "beach vacation" took the form of a beach-themed tablescape, set at the end of summer as a bit of an homage to our trip and to late-summer beach visits in general. I really love the way this turned out, especially since I didn't have to purchase anything new for it – everything was already in my stash, including all the centerpiece elements.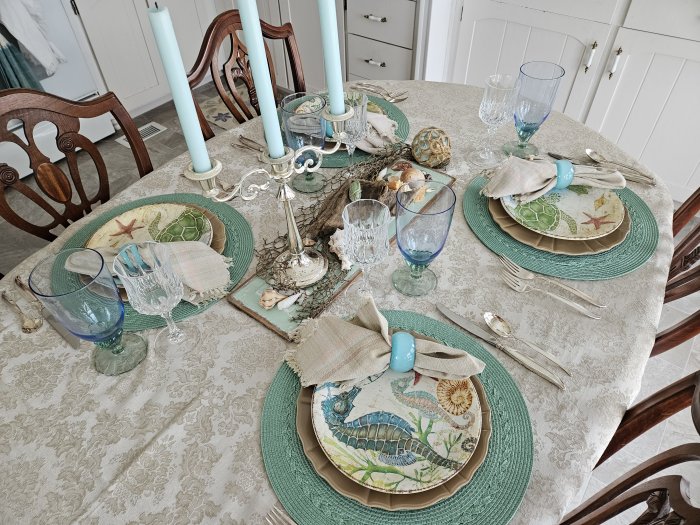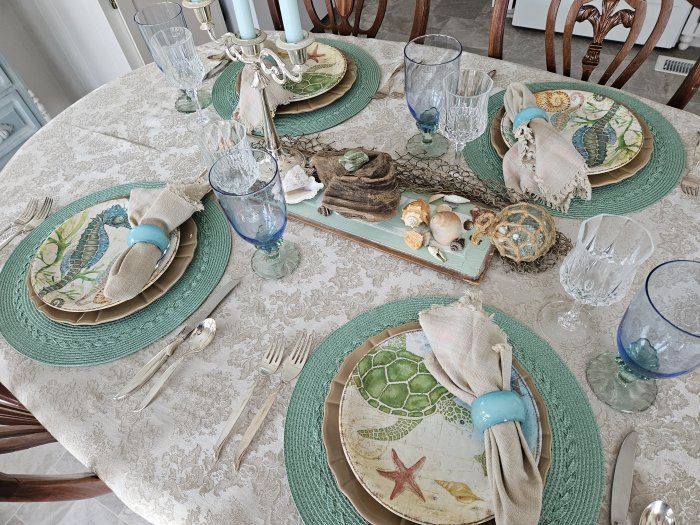 Because we're still in Faded Summer, I stuck with more muted tones as suggested by the Pier 1 salad plates – no beach balls or pink flamingos this time!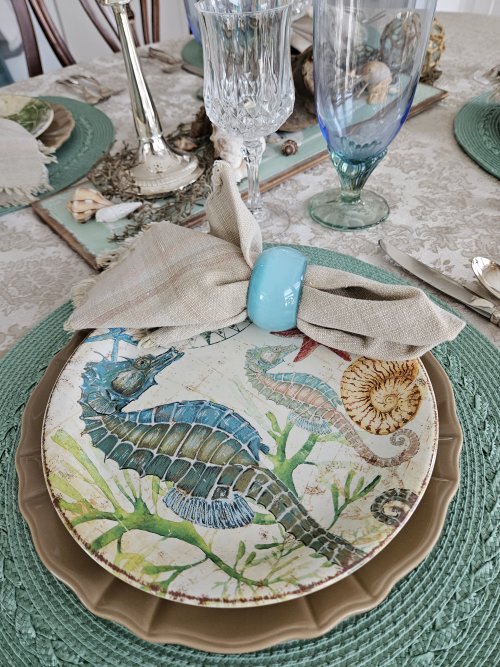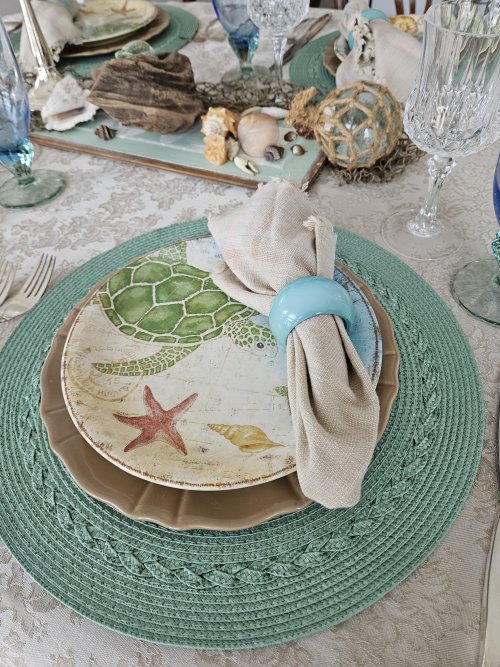 Here's the full place setting, including the taupe dinner plates I've been using for most of the Faded Summer season, the Pier 1 melamine salad plates, and straw placemats in "Sea Green" over a champagne-hued tablecloth.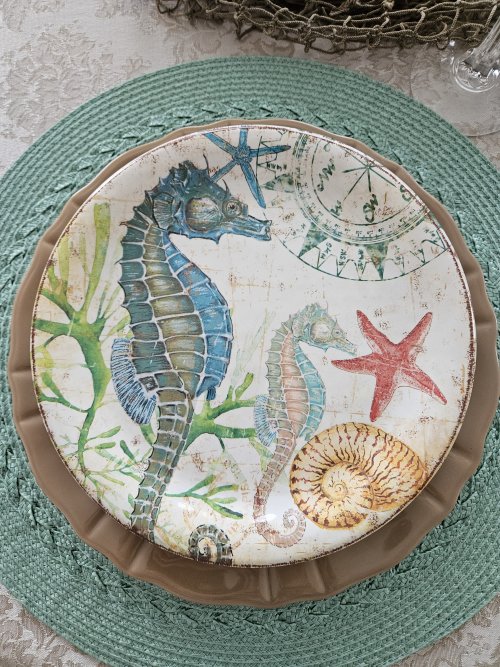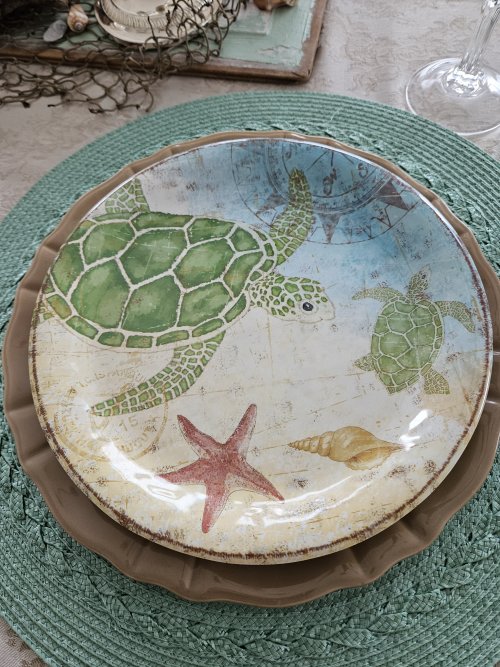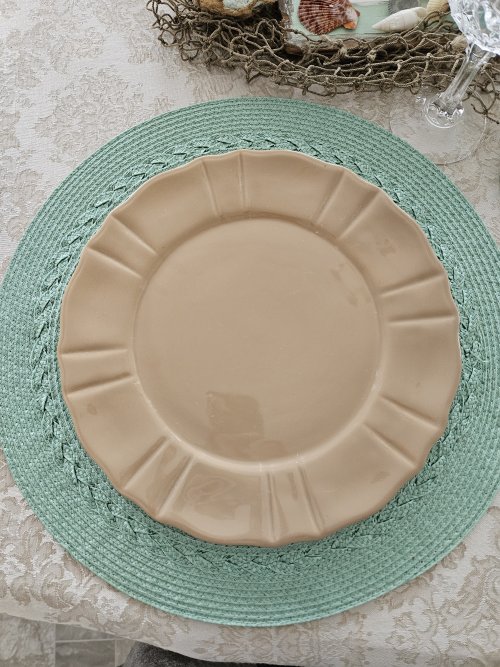 Flatware is my handed-down "Flair" silver by 1847 Rogers Brothers – the curved handles not only serve as a hint for which side of the plate each piece goes on, but they also are a bit reminiscent of waves.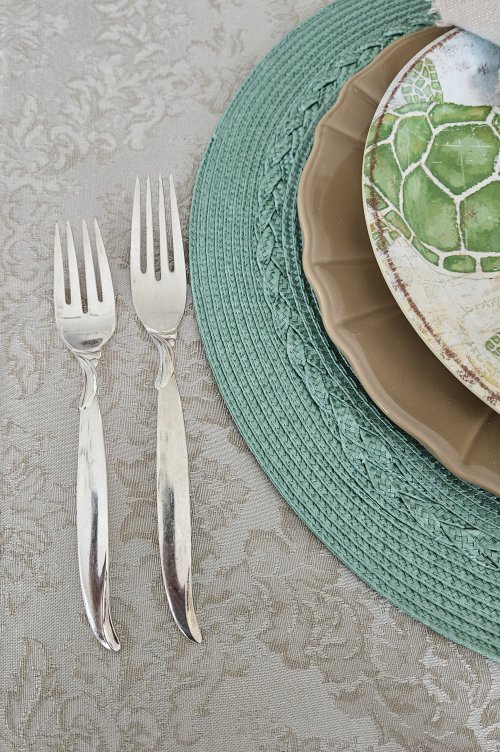 Glassware is what I consider to be one of my luckiest finds ever – I found four of these gorgeous blue and green "Bahia" tumblers by Bormioli Rocco, $1.99 each at a consignment store. Pristine condition, perfect for this color scheme, and STUNNING in person! The wave motif where the stem joins the glass is just artistry.
I paired them with Cristal D'Arques "Longchamps" goblets – also a thrift-store find, and I love the sparkle these bring to every table!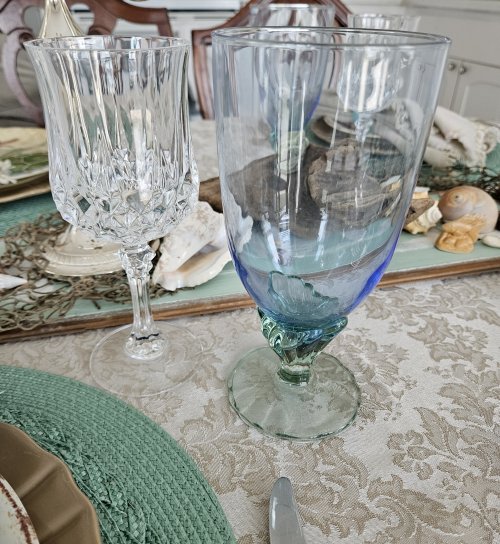 The napkin and ring were also thrifted finds in appropriate beach colors. The napkin itself works so well with the taupe plates, and the ring is a pretty sky blue without being too bright for this Faded Summer version.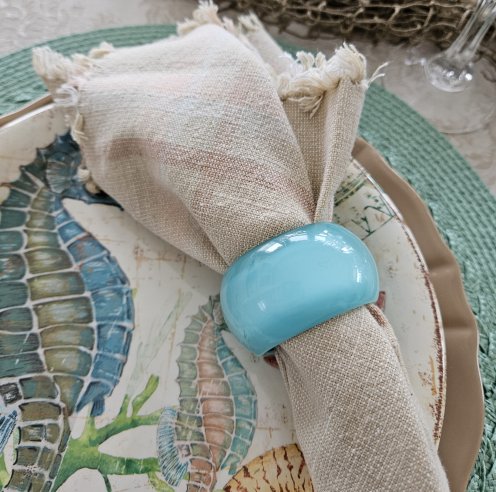 I did a runner-style centerpiece for this table, using my hand-painted "Beach" sign as the base and a bit of faux fish netting found in my stash of shells. The candleabra provides a bit more silver sparkle, and you might notice a couple of ocean themed "conversation starters" if you look closely. (And no, I don't mean my sweet new feline friend, Boop, the tuxedo cat – more about her in a future post!)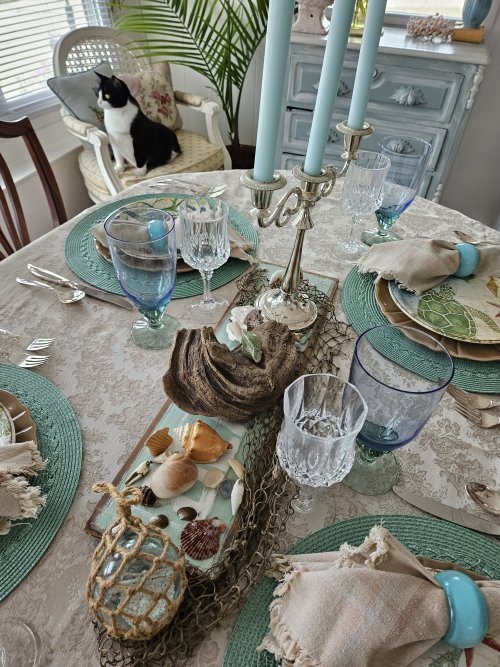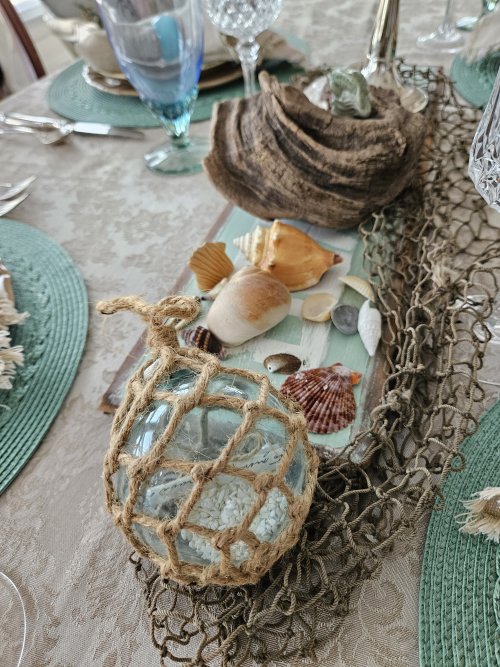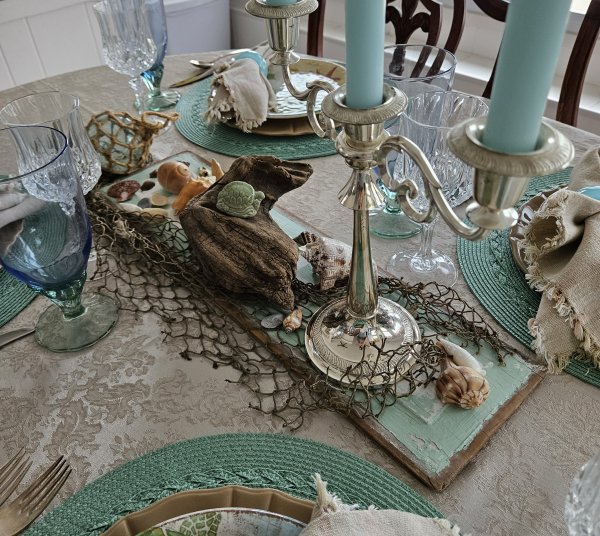 Did you see them? Maybe I didn't show the right angle yet – it's these two sweet little vintage "Wade's Whimsies" ceramic figures: a sea turtle and flowing-finned fish! If you want a new collecting obsession, just check your favorite vintage re-selling sites for Wade's Whimsies!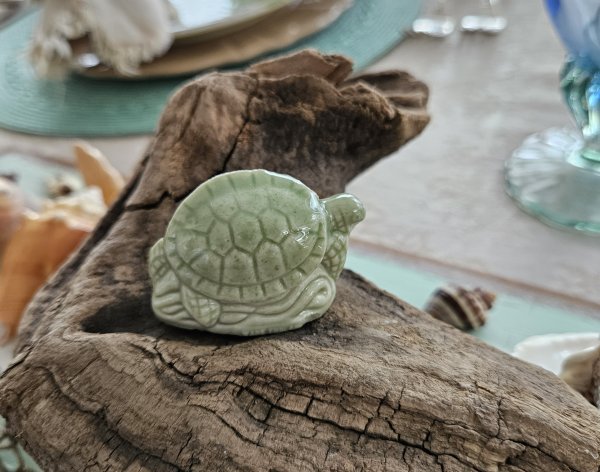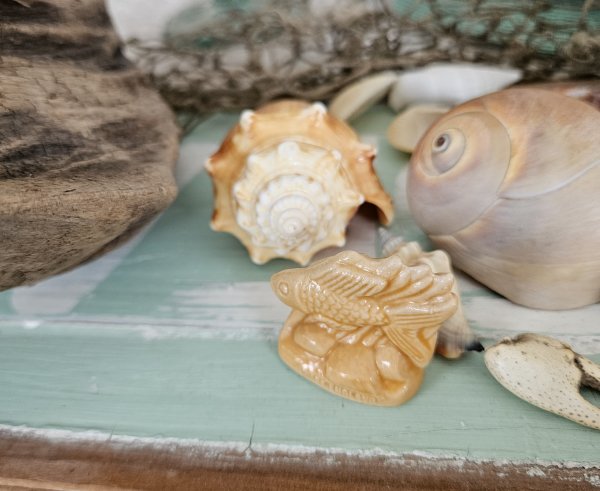 Here are a couple more views around the table.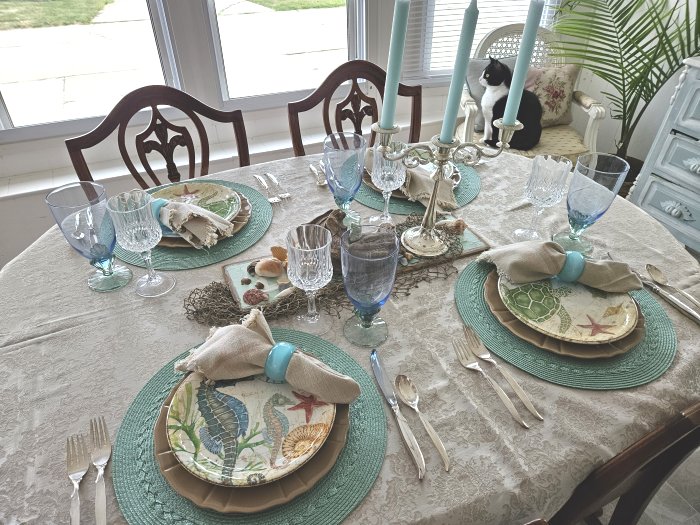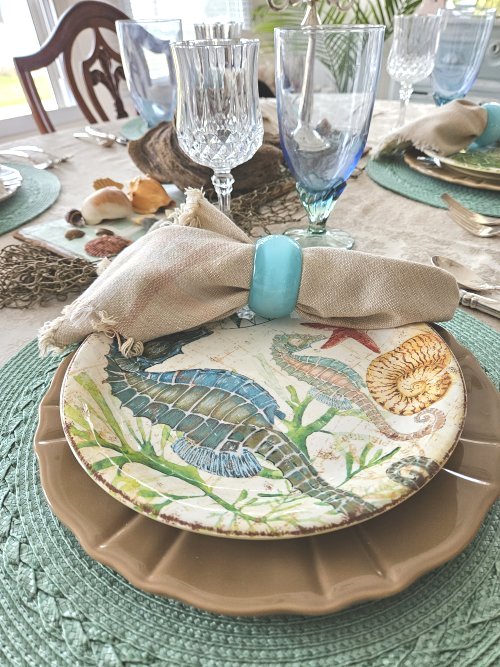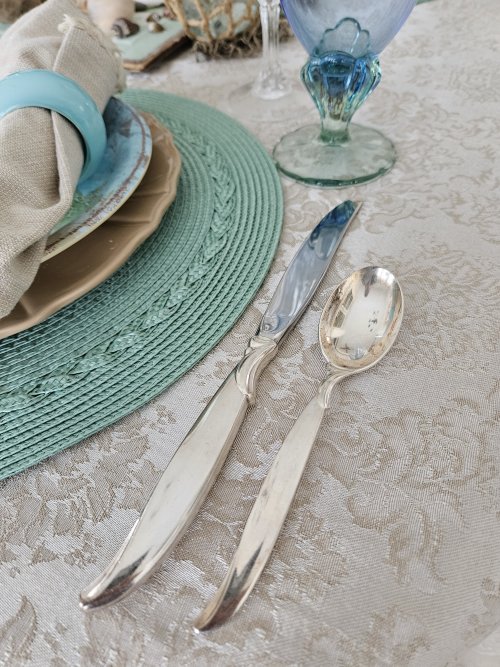 And a couple of shots in candlelight!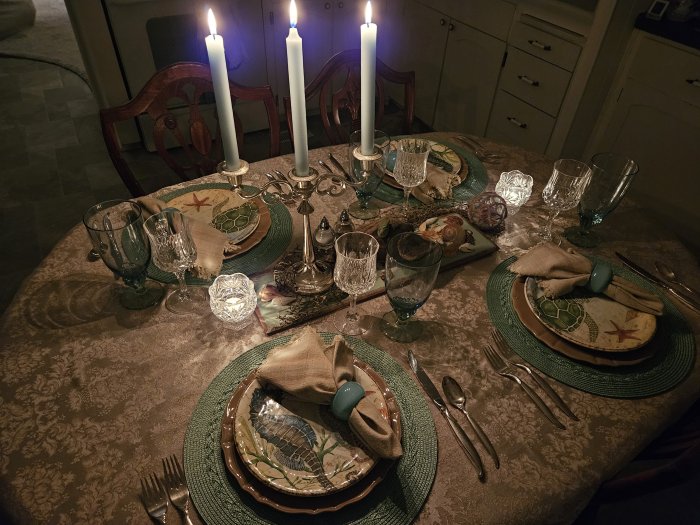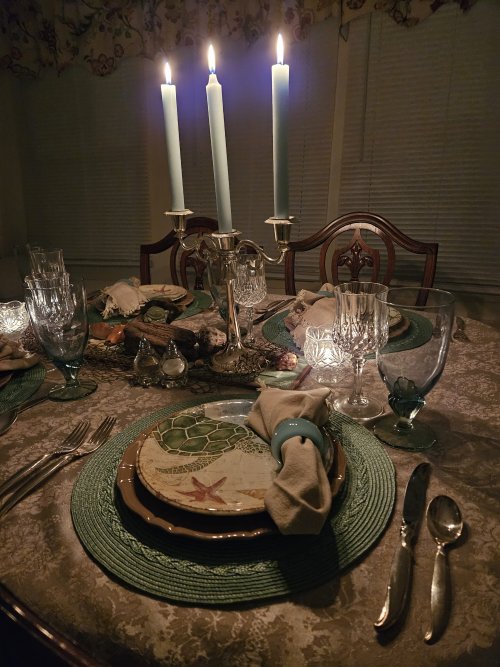 Here is the put-away shot – sorry to see this one go back into the cupboards, it feels like I'm saying "Summer's over," when of course there is still warm weather to be enjoyed!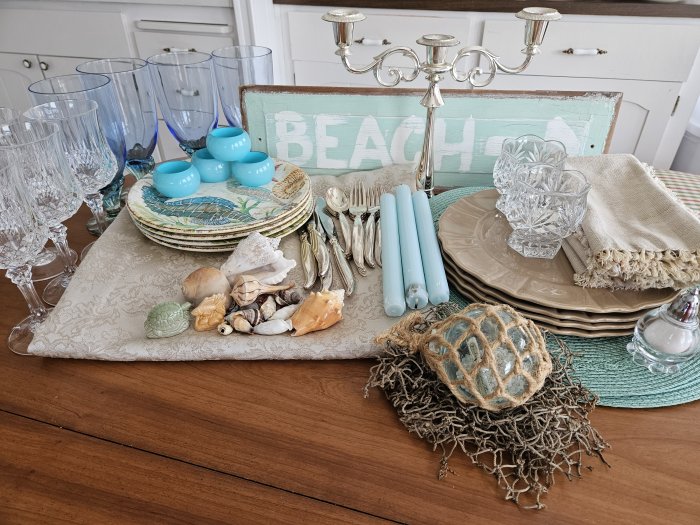 And here is an image to Pin in case you would like to save my Faded Summer Beach themed tablescape for future ideas!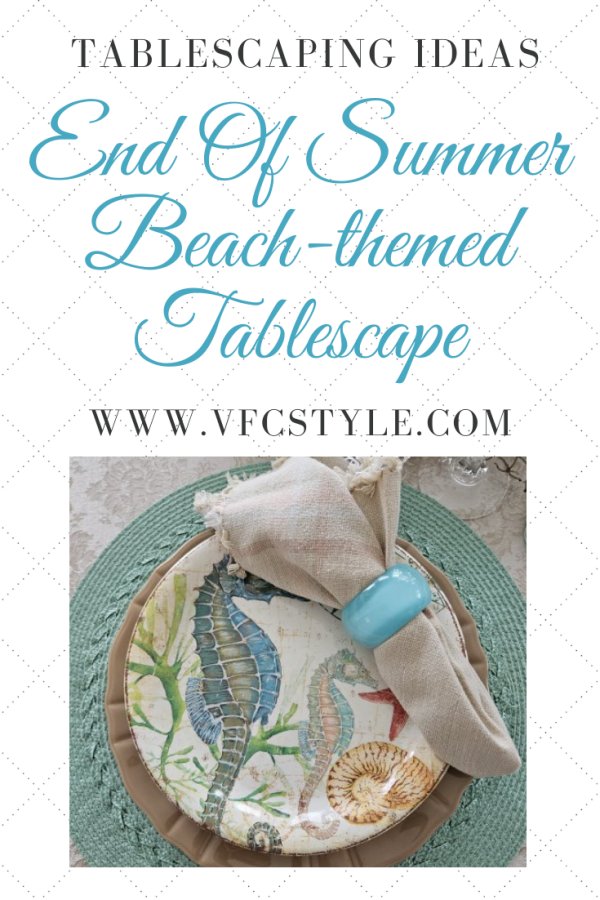 Of course I will be sharing this post for Tablescape Thursday over at Susan's blog, Between Naps on the Porch! Click through for more tablescaping inspiration! I hope you are inspired to enjoy the remainder of summer and – if possible – visit your favorite body of water before the season is over!