Suggest a theme involving abundance or bounty, and I am all over it – if you look up the word "maximalist" in the dictionary, you'll probably see my face. (And I hope it's one of those old-timey line drawings, because I feel like you've really made it when your likeness appears as an old-timey line drawing in an ancient dictionary…)

Anyhoo, I seem to do an abundance or bounty-themed tablescape every year because for me that's the vibe of the Thanksgiving season. Here's this year's "Autumn Abundance" table: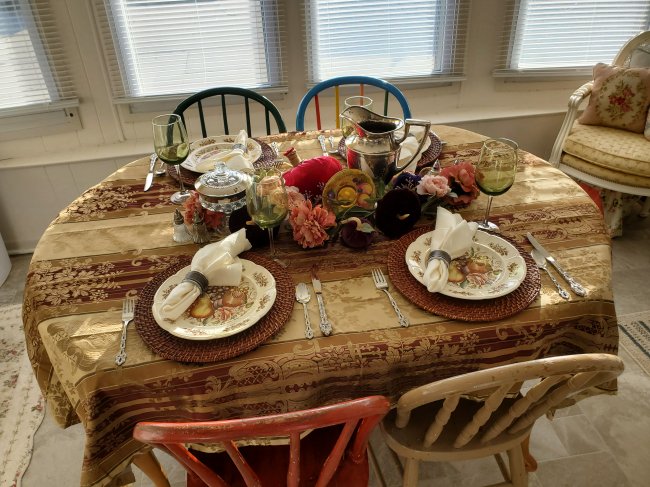 Inspiration pieces for this table were (oddly enough) my deep pink velvet pumpkin, which I made and immediately knew it had to be in a centerpiece, and the amazing silver-plated water pitcher I snapped up at one of my favorite thrift stores for like $6. (You can't see it, but it has an engraved initial "D" on one side. Makes me wonder if it was perhaps a serving piece in a local hotel.) The rest of the centerpiece includes more handmade (by me) velvet pumpkins, faux flora, and a lovely irridescent Aynsley saucer.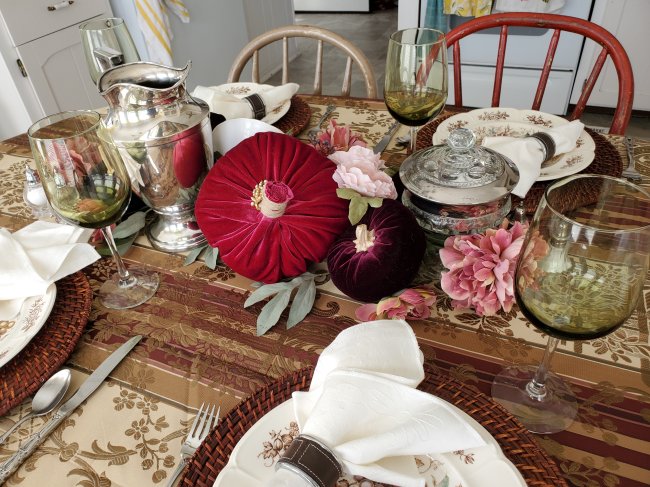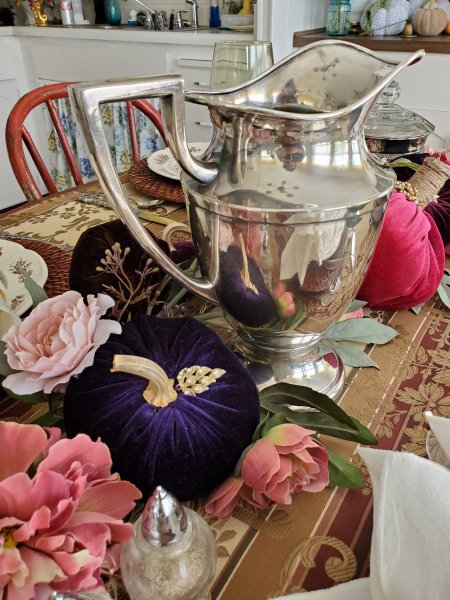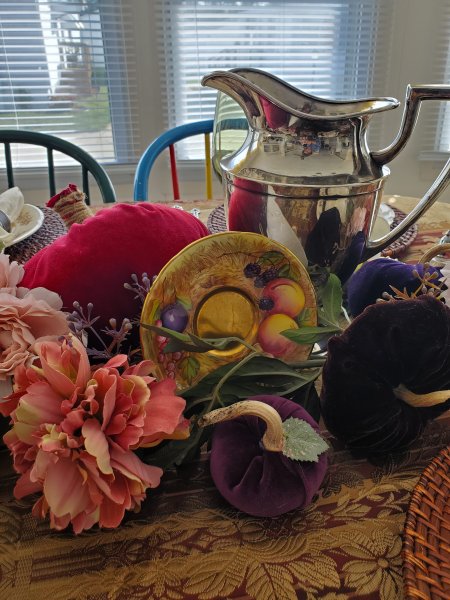 Dinnerware is "Windsor Fruit" by Johnson Brothers of England. I love the "hand-colored" look of this pattern, and it lends itself well to the rattan texture of the charger and the tailored silver-and-leather look of the napkin rings.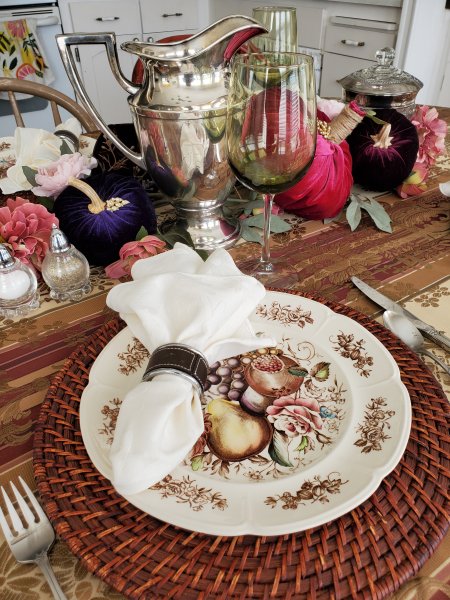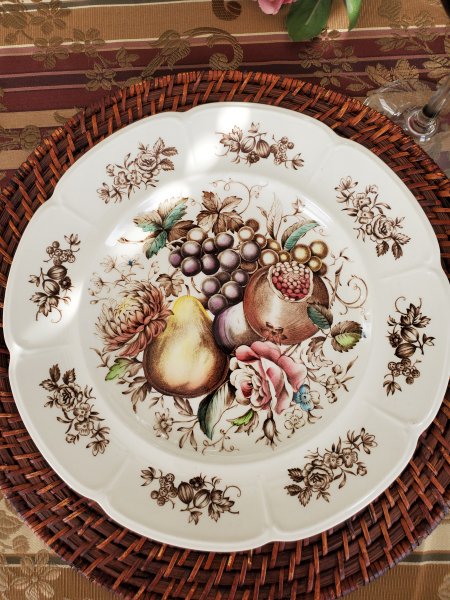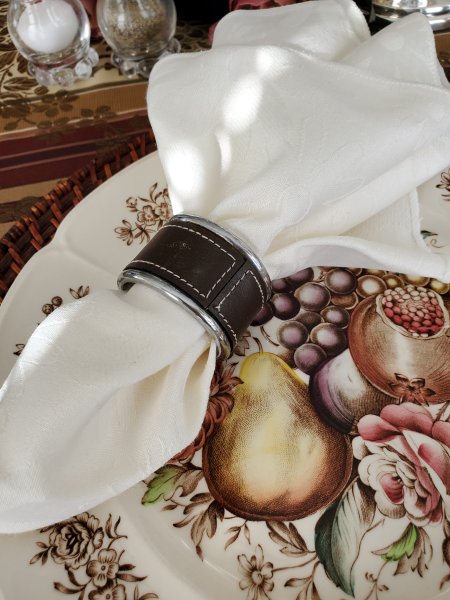 These large green wine glasses are by Dollar Tree, and the flatware is my handed-down "Chandelier" by Oneida.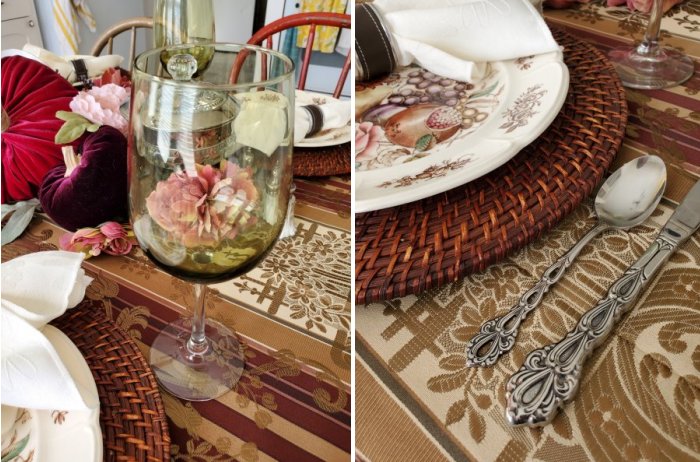 By the way, the tablecloth is a thrifted curtain panel – I wish I had a pair of these, I'd use them for their intended purpose somewhere in my home. In any case, the single panel makes a great abundance-themed table covering.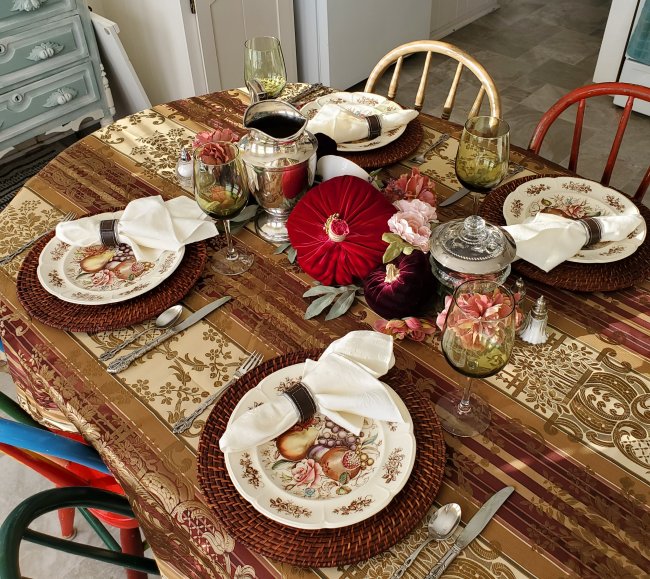 A few more views areound the table…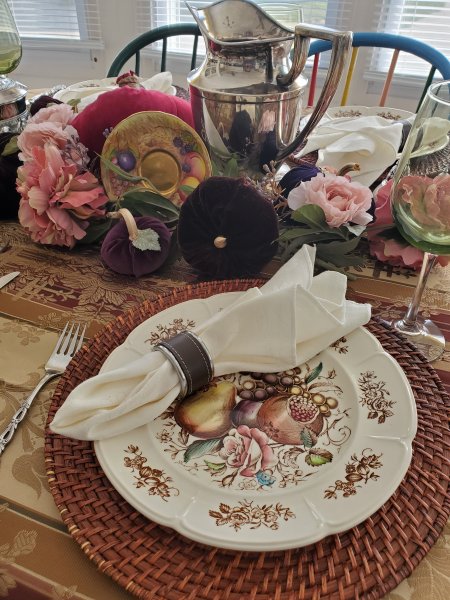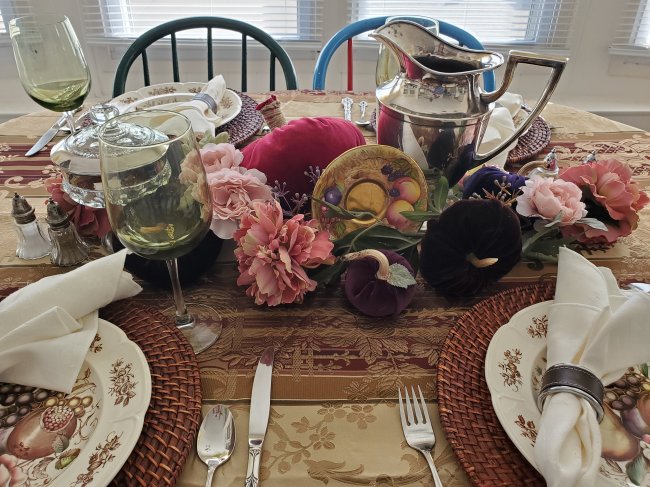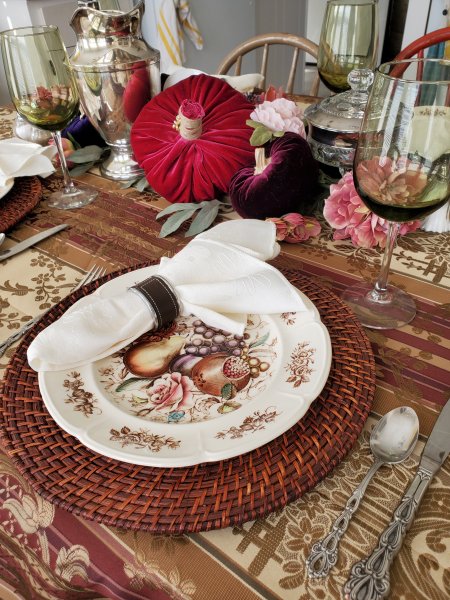 Here is the birds-eye view (I haven't fallen off my step stool yet, so I keep climbing up for these shots despite having reached my 60th birthday this year!)…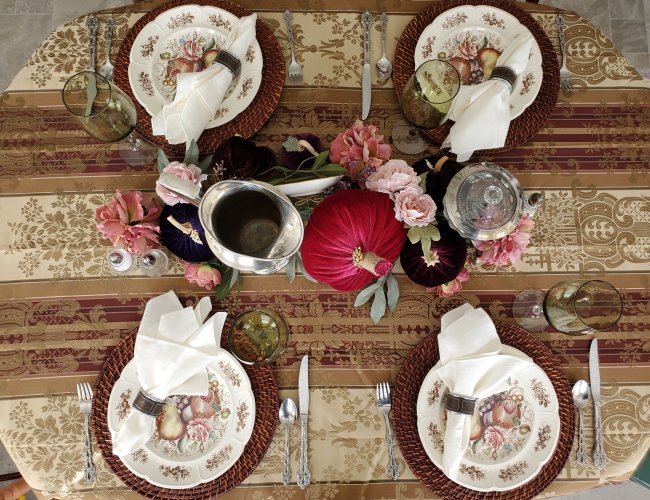 … and of course the put-away shot, showing off how beautifully everything coordinates.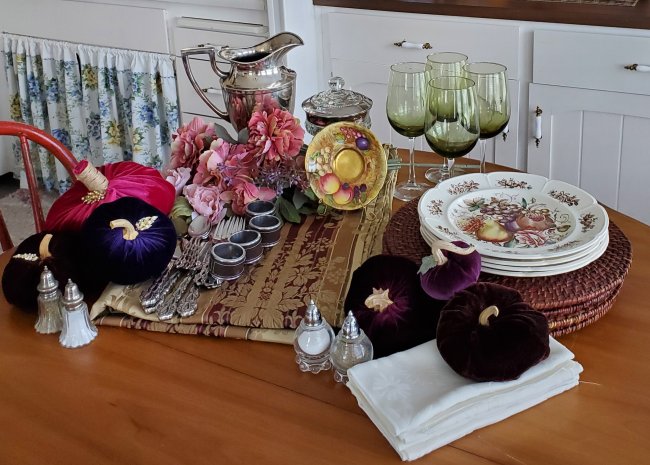 Are you hosting Thanksgiving this year? My tiny celebration will be delayed a few days and I'm debating whether to re-set this table or go with my traditional choice of Royal China Currier and Ives. Decisions, decisions!
I'm sharing this abundant Fall table for Tablescape Thursday over at Susan's amazing blog, Between Naps on the Porch. Be sure to click through for more inspiration, and save the image below to your Pinterest board for future use if you wish!