When I prattle on about "Faded Summer" (which is often!) I like to say that the unofficial Fifth Season is meant to serve as a bridge between "Summer Brights" and "Fall Bolds" – meaning colors of course! Well this table is a perfect example of what I mean by "Fall Bolds" – a beautiful range of reds, oranges, and golden-yellows.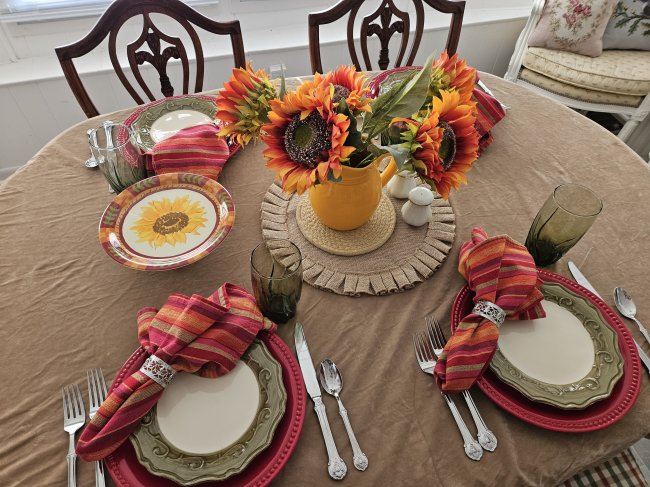 I was going for a sunflower-theme tablescape, because the table was in honor of National Sunflower Day which is typically the first Saturday in August. I was going to do more of a muted color palette (you know – a Faded Summer version) but I found those gorgeous silk sunflower stems at the consignment store and just had to use them, so that put me squarely into "Fall Bolds" territory.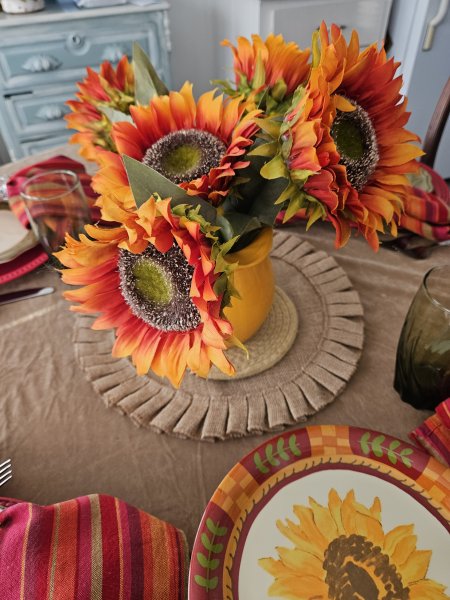 Everything for this table was either thrifted or from other secondhand sources, except for the flatware which I purchased a couple years ago through Amazon. It's "Napoleon Bee" by Wallace (affiliate link – if you make a purchase, it costs you nothing additional but I earn a small commission to help support the blog!). I use this flatware pretty much any time I do a flower- or garden-themed table of any kind. It is high quality stainless.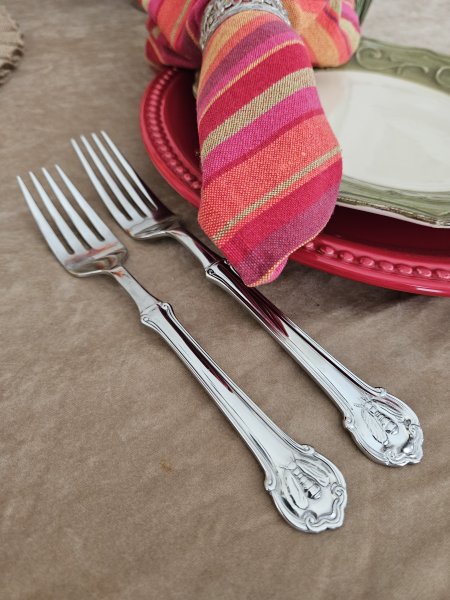 The centerpiece of course features those beautiful faux flower stems, and a fun ceramic pitcher in a perfect golden sunflower hue. I set it on a burlap placemat and also added a woven trivet for additional texture. The salt and pepper set carries through the "chunky pottery" look of the dinnerware.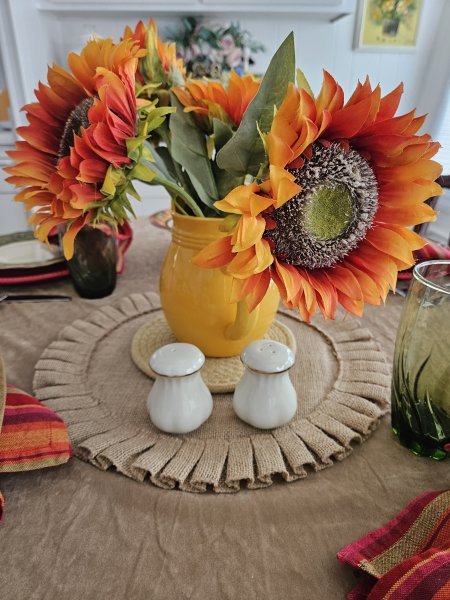 The place setting consists of thrifted bold red dinner plates and green-bordered salad plates that feature a kind of petal shape. I don't have a full set of salad plates with any kind of sunflower design, but I love this look because I think it mimics a flower rather well even if it's not a literal representation.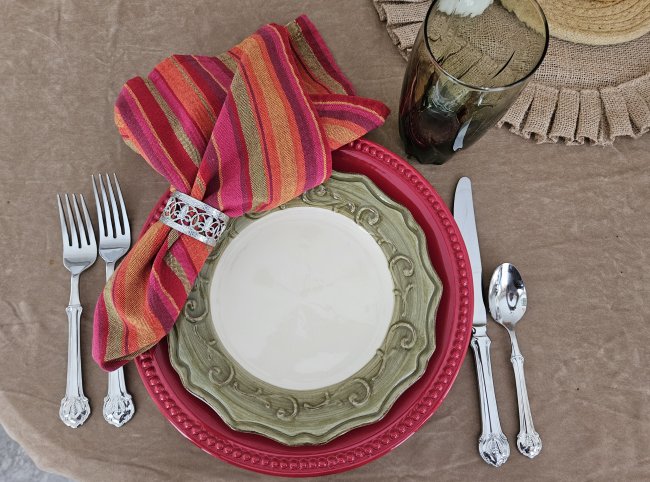 Napkins are again in bold Fall colors and have a bit of texture as well. The silver napkin rings are simply a metallic element to echo the flatware.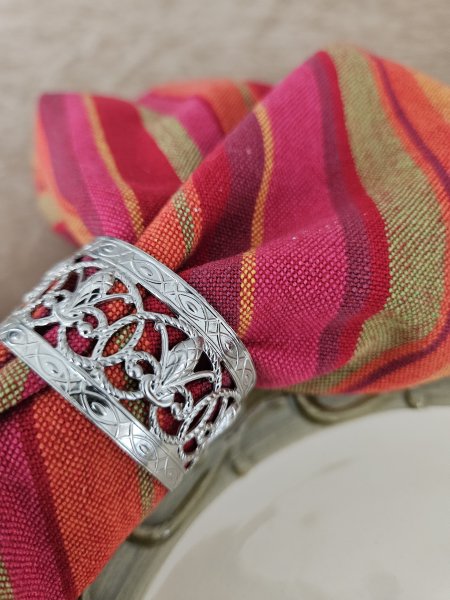 The glassware for this table is the vintage Central Park pattern by Anchor Hocking. There are actually two shades of green in this pattern – one is more olive-toned and is called Ivy Green. I have three of those. The other is called Fern Green, and I have one in that hue. I prefer the Ivy, but I do have to use both when setting a table for four until I manage to thrift a fourth one in Ivy.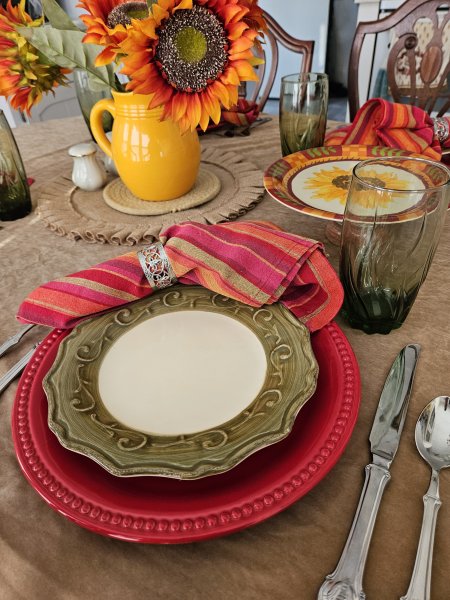 The one salad plate I do have with an actual sunflower on it is actually made of melamine – I've only found the one, but I felt it deserved a spot (even if by itself!) in a sunflower-themed tablescape so I set it on top of a handmade ceramic pillar-candle stand. You can't really see the stand, which serves as a riser, but I envision some small "finger food" being passed around on this plate. Stuffed mushroom caps, perhaps?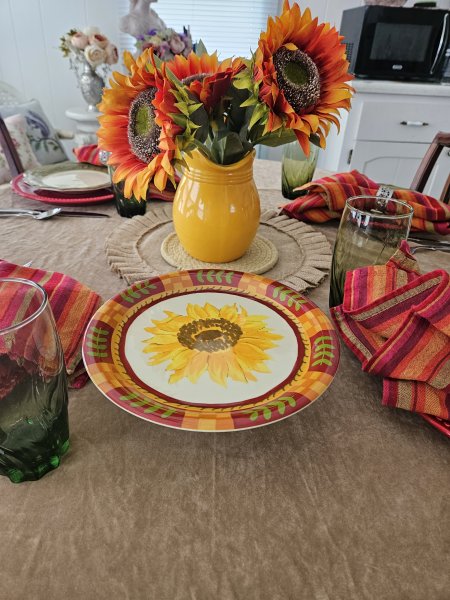 A couple shots from different seats around the table…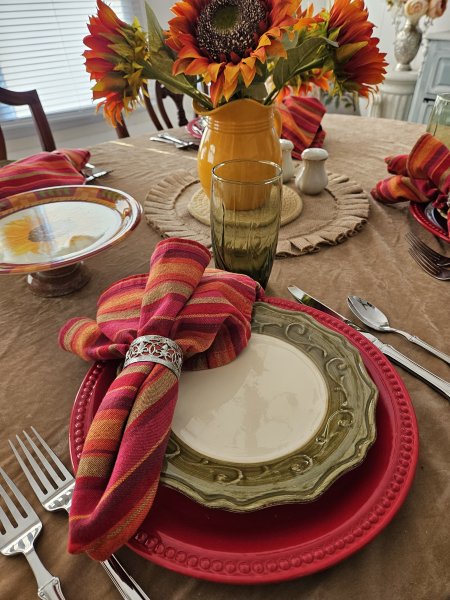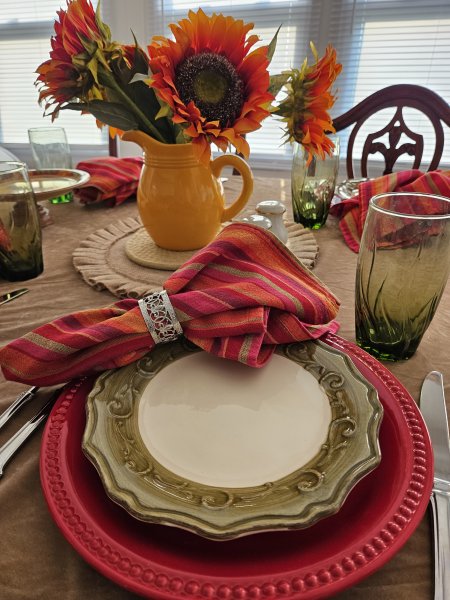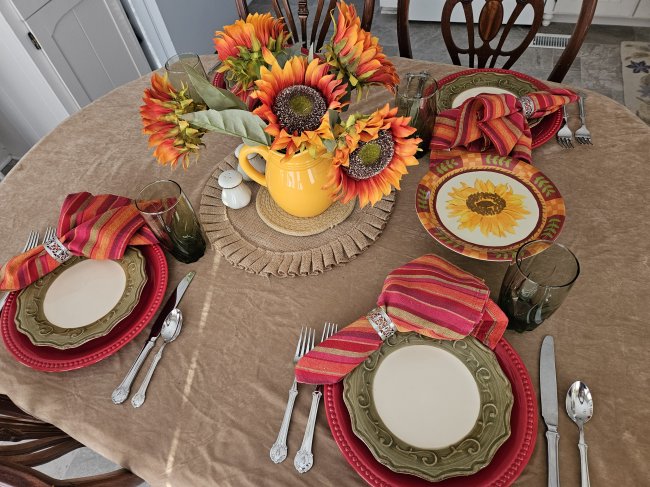 And the put-away shot where everything is gathered up to go back into the cupboards.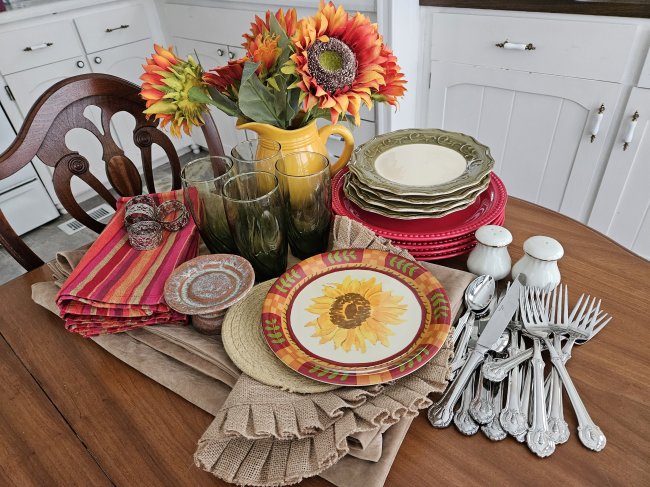 Here's a Pinnable image in case you'd like to save this post for future ideas!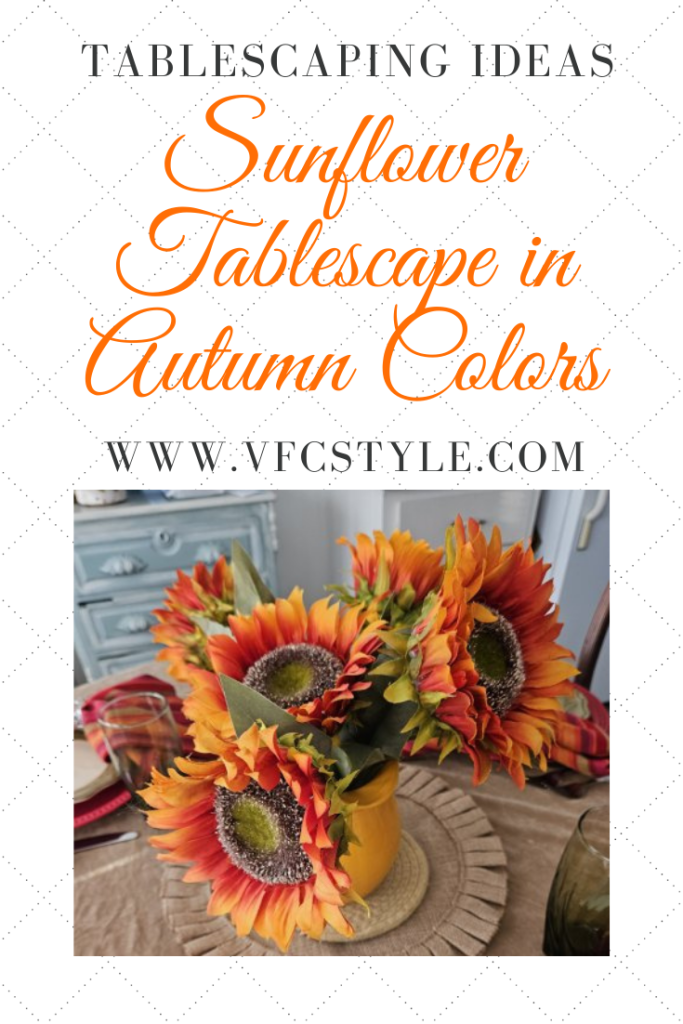 I'm sharing my sunflower-themed tablescape over on Susan's blog, Between Naps on the Porch, for Tablescape Thursday! Be sure to click through for more inspiration!