Okay let's get one thing clear: I'm terrible at "befores." It's not that I don't appreciate – or want to share – a dramatic transformation. On the contrary – but sometimes I forget to take the before picture!
So for this before/after project, please imagine if you will… a tiny, dark brown side table complete with spider egg sacs on the underside, missing its center support and crying out for rescue like the sad puppies in the ASPCA commercial. (I'm pretty sure Sara McClachlan would spontaneously start singing "In the Arms of an Angel" if she saw this table.)
I acquired my little table at an auction several weeks ago… I won't tell you what I paid for it, but I will tell you that I never… EVER… pay more than $10 for a table at an auction. (Except for that one time I did, because Greg thought he was being helpful by waving his hand with five fingers displayed, thinking he was bidding five dollars… and turned out he was waving affirmative at 25. I was the lucky winner of THAT table too, because no one in their right mind would've paid that much for it. Ahem. I will show you that project another time.)
So anyway, the table was cheap. Which is good, because it was awful. Greg redeemed himself (mostly) for the $25 table because he did a LOT of work to this piece. He pulled out all the wobbly bits and re-glued them, AND he rebuilt from scratch the v-shaped support in the lower part of the table using dowel construction and a hand saw. He tied and weighted the whole thing down with heavy books and some sort of secret sailor's knot (because we didn't have any clamps), and we left it alone for a few days. When the ropes and weights came off, it was a sturdy little table once again.
Now it just needed paint, which in this case meant two coats of "Romance" chalk paint by Americana (now called "Rouge"). And – voila – no more sad puppy!!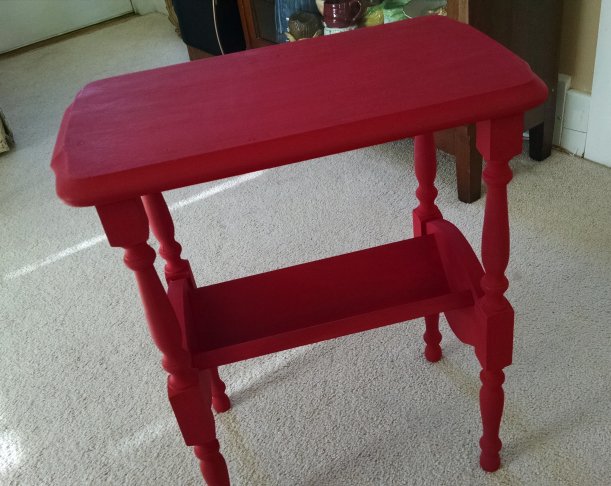 Isn't it adorable? Look at that sweet center support!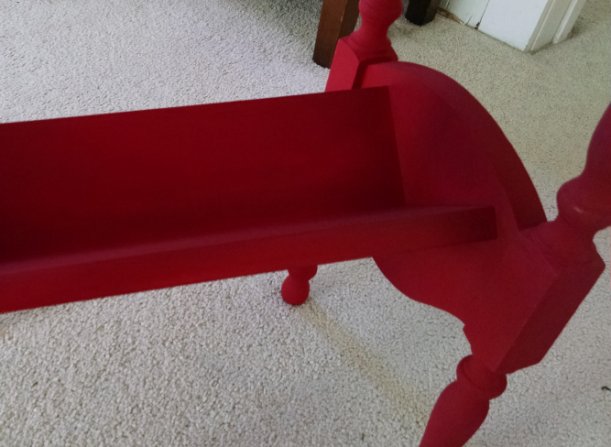 That little shelf is perfect for CDs, Little Golden Books, Christmas greenery, or… or… or even plain!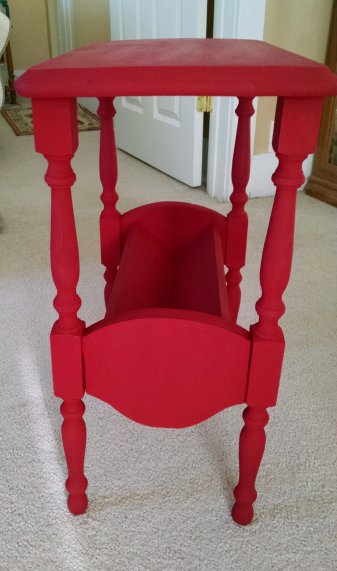 At this point the only problem that remained… was that the top was a beautiful, but rather boring, expanse of red.
Now let me tell you I debated on what to do about that for a couple more weeks. I considered adding a vintage label graphic, painting roses on it, painting a Union Jack, leaving it plain, and all manner of other ideas. I finally decided to go for the roses.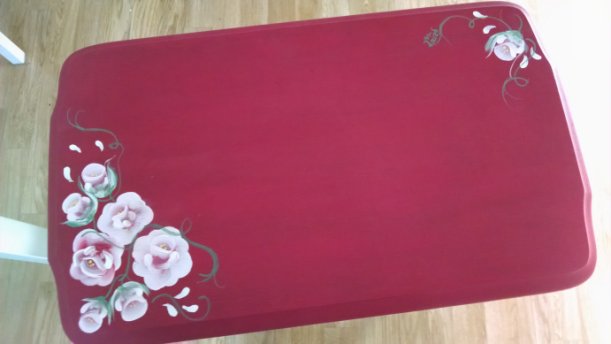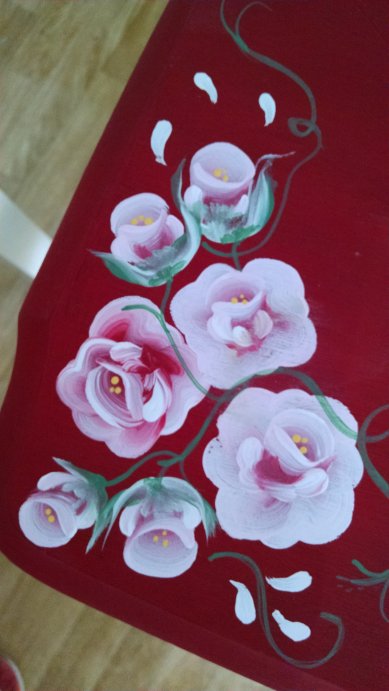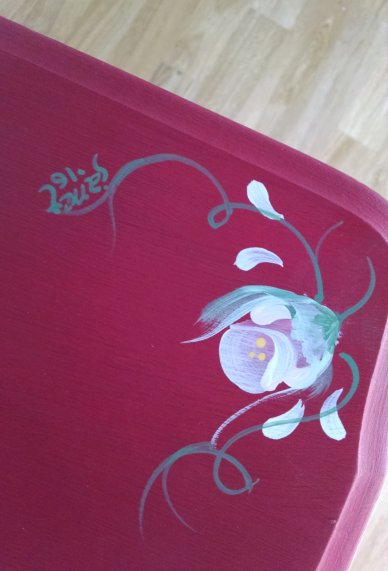 So there we are, at long last, the "afters" on a poor little sad table that certainly isn't sad anymore! In fact, I daresay that if Sara McClachlan could see this table today, she would likely change her tune to "How Much is That Doggie in the Window." Arf arf!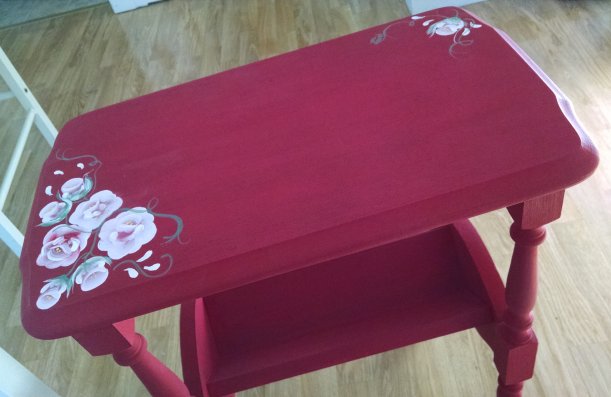 I will be linking my sweet little cottage table at these parties, so be sure to click through for oodles of inspiration!
Make It Pretty Monday at The Dedicated House
A Round Tuit at Creating My Way to Success
Inspire Me Tuesday at A Stroll Thru Life
Home & Garden Thursday at A Delightsome Life
Flaunt It Friday at Chic on a Shoestrong
More soon –