Friends, I'm happy and excited to announce the release of my latest e-book, "How to Have an Epic Yard Sale"!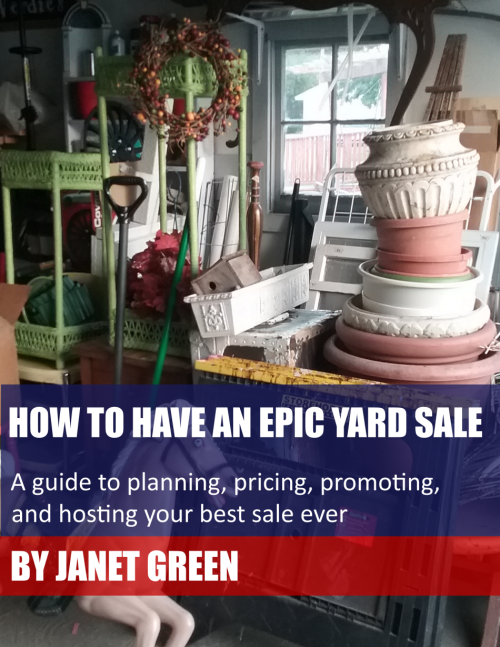 I've taken all my best tips from 30+ years of attending and hosting sales, and compiled them into a fun little volume that will help you earn some extra cash and clear the clutter from your home. The book includes:
My four simple keys to having a successful yard sale, and how to implement them
Information to help you plan the layout of your sale to it's appealing, fun, and safe to shop
Pricing tips to ensure brisk sales, great bargains, and money in your pocket
Tips for creating and placing effective signage – and when NOT to place signage
My exact plan for setting up a yard sale – what goes where for easy shopping
Hints on dealing with difficult customers – because there are always a few stinkers out there!
… and a lot more, all for just $2.99 – that's less than a Starbucks, y'all!
You can get the book in PDF or Amazon Kindle formats. (No Kindle? Just download the Kindle Reader App for any smartphone!) To grab  your copy of "How to Have An Epic Yard Sale," just choose a link:

or
It's only late July as I write this, so that means there's still plenty of time left this year to host a great sale. And don't let anyone tell you it isn't fun… because it is! Let my book show you how to have fun, make money, and reduce clutter! Grab "How to Have an Epic Yard Sale" now!